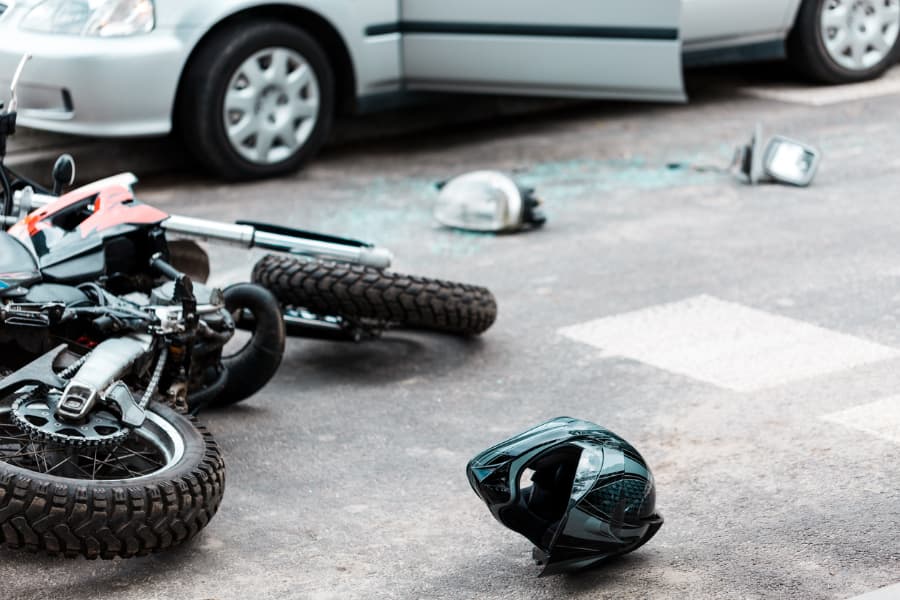 The personal injury lawyers at Thomas, Conrad & Conrad understand the devastation of being injured or losing someone you love to a motorcycle accident. Even the most conscientious bikers can be involved in a crash, especially when other drivers fail to pay attention to their surroundings. Unfortunately, the number of motorcycle fatalities has been rising in Pennsylvania, so it's more important than ever to take steps to stay safe on the road.
Pennsylvania Motorcycle Accident Statistics
According to the Pennsylvania Department of Transportation's 2020 Pennsylvania Crash Facts and Statistics report, there were 810,858 licensed motorcyclists and 377,147 motorcycles registered in the commonwealth in 2020. Due to the COVID-19 pandemic, fewer vehicles were on the road, but 2020 ended up being a deadly year for Pennsylvania motorcyclists, nonetheless.
Although they represented only a fraction of registered vehicles on the road, motorcycles were involved in more than 20% of all fatal motor vehicle accidents in Pennsylvania. In 2019, there were 2,977 total motorcycle accidents. In 2020, that number jumped to 3,398. Motorcycle fatalities reached a five-year high, with a total of 217 deaths in 2020, compared to 174 in 2019, an increase of nearly 23%. Of the 217 motorcycle fatalities, 94% were operating the vehicle, while 6% were passengers.
Even more striking is the fact that 115 people who died in motorcycle accidents in 2020 were not wearing a helmet. Unfortunately, this statistic isn't all that shocking to motorcycle accident lawyers, as they often see the aftermath of injuries sustained by riders who weren't wearing helmets on the road.
Traffic Fatalities Are on the Rise Nationally
According to the National Safety Council (NSC), U.S. traffic deaths were up by 24% in 2020, the highest they've been in 13 years. There's no way to know whether more fatal motor vehicle accidents were caused by increased speeds due to less traffic on the road, if people were driving while distracted or impaired, or if a combination of factors has caused numbers to surge.
Regardless of the cause, the spike in motorcycle fatalities in Pennsylvania and throughout the country is alarming. If you've been injured or have lost a loved one in a motorcycle accident, our personal injury lawyers may be able to help you recover compensation for damages.
Motorcycle Safety Tips
One of the most important things you can do to protect yourself from injury or death is to wear a helmet. Whether you're a novice or seasoned biker, it's also important to:
Follow traffic laws. Riding too fast, lane splitting, and failing to obey traffic signals can all increase the risk of being involved in a fatal crash.
Ride sober and alert. Riding your bike while impaired or drowsy can lead to catastrophic accidents. It's also essential to remember that when you ride impaired you can cause serious harm to others.
Check your bike before you ride. Ensuring your bike is in good condition can help you stay safe. Before you leave home, give your motorcycle a quick once-over, including checking lights, turn signals, mirrors, and tires. If you're riding a new bike, make sure to familiarize yourself with it in a safe place before hitting the road.
In addition to wearing a helmet, put on eye protection and proper protective/reflective gear.
Pennsylvania also offers free safety training courses that can help you become a better rider.
How a Motorcycle Accident Attorney Can Help
After any crash, it's crucial to seek medical attention as soon as possible. Whether you've been hurt, or you're worried about a loved one who's been injured, contacting a motorcycle accident lawyer in eastern Pennsylvania can help you understand your rights and options. Depending on the circumstances, you may be entitled to recover compensation for damages such as:
Past and future medical bills
Past and future wage loss
Pain and suffering
Emotional distress
Other damages
If you've lost someone you love due to a motorcycle accident fatality, you may be entitled to file a wrongful death claim against any negligent parties. Most personal injury lawyers, including ours, offer free case evaluations and take cases on contingency, which means you won't owe attorneys' fees unless they make a recovery for you.
Contact an Eastern PA Motorcycle Accident Lawyer
At Thomas, Conrad & Conrad, we're dedicated to helping families find justice after losing someone in a motorcycle accident. Contact us online or call us at 610-867-2900 to schedule a free consultation. With offices in Northampton, Lehigh, Berks, and Monroe counties, we represent injured victims throughout all counties in Eastern Pennsylvania.