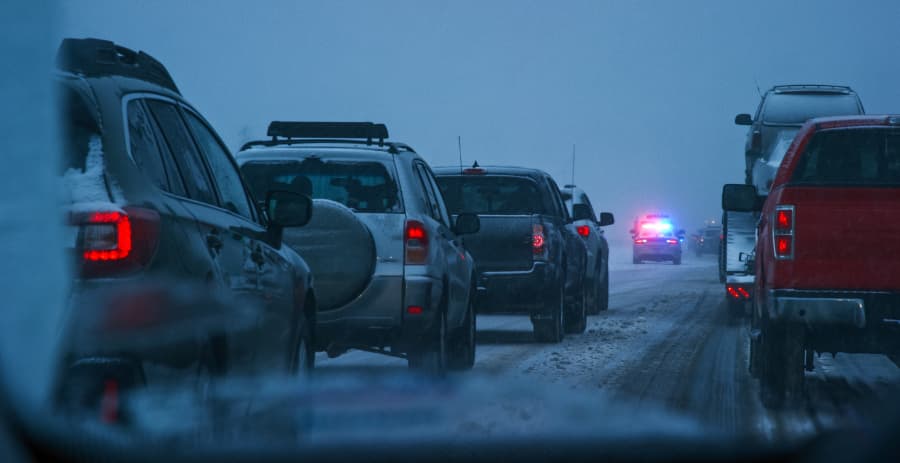 Inclement weather and unsafe driving practices are common causes of multi-car pile-up accidents. These types of crashes often result in multiple injuries and fatalities, and it can be challenging to determine who may be liable for damages. At Thomas, Conrad & Conrad Law Offices, our accident lawyers have decades of experience handling cases involving all types of motor vehicle collisions throughout eastern Pennsylvania. If you or a loved one has been hurt in a pile-up accident, we can help you pursue all possible sources of compensation for damages.
Pile-up Accidents Are Often Deadly
In March of 2022, a deadly multi-car accident occurred on Interstate 81 in eastern Pennsylvania. A snow squall caused whiteout conditions, which led to six fatalities and 24 people being treated at local hospitals. The pile-up involved 39 commercial vehicles and 41 passenger vehicles. The pile-up closed the interstate for nearly two days. When large-scale pile-up accidents like this occur, sorting out liability is a significant undertaking.
Determining Liability in Pile-up Crashes
Law enforcement investigators, insurance adjusters, and other professionals usually investigate multi-car accidents. Auto accident lawyers who represent injured victims in multi-car pile-up cases also conduct their own investigations. When pile-up accidents involve semi trucks and other commercial vehicles, insurers may send adjusters to the scene to investigate. They usually inspect the scene and damage to vehicles and ask for statements from other drivers or witnesses. Unfortunately, they may try to shirk liability and shift blame to drivers who were not responsible for causing the accident. If you're involved in a crash, do not give a statement, sign anything, or accept a settlement from an insurance company without talking to an auto accident lawyer first.
While determining fault in multi-car accidents is complicated, possible scenarios that may arise when determining liability include:
The vehicle in front: When a vehicle suddenly hits the brakes and the cars behind it are unable to stop in time, it can set off a chain reaction of rear-end collisions. Although drivers following another vehicle have a duty to maintain a safe distance, if the motorist driving the vehicle in front brakes for no reason, they could be found at fault for causing a pile-up accident.
The cars following a vehicle that stops: Speeding, distracted driving, nodding off at the wheel, and other unsafe driving practices and traffic violations can lead to a vehicle slamming into the one in front of it, even if the first vehicle smoothly came to a stop or was still in motion.
Although it's possible that every vehicle involved in a chain reaction crash could be held liable, investigators must carefully analyze physical evidence and the details of the crash to determine how each impact occurred.
Recovering Compensation in Pile-up Accidents in Pennsylvania
Because Pennsylvania is a no-fault auto insurance state, your own insurance may pay for your medical bills and other accident-related out-of-pocket expenses. However, policy limits often don't even begin to cover the cost of extensive medical treatment if you are seriously injured. That's why it's crucial to find an experienced accident attorney if you're hurt in a crash that wasn't your fault.
It takes a skilled personal injury lawyer to help injured victims navigate the claims process after a multi-car pile-up accident. Your accident attorney can thoroughly investigate the circumstances surrounding the crash, handle all communications and negotiations with insurance adjusters, and help you pursue compensation from all sources that may be available to you. They also can assist with any claims you make with your auto insurer. An accident lawyer may be able to help you recover damages such as:
Past and future medical bills
Lost wages
Loss of earning capacity
Pain and suffering
Emotional distress
Loss of enjoyment
Loss of consortium
It's important to keep in mind that Pennsylvania is a modified comparative negligence state, which means an injured person may be entitled to compensation provided their percentage of fault is at or below 50%. That's why liability often is divided between multiple drivers in pile-up crashes.
Pile-Up Accidents Often Have Serious Consequences
Multi-vehicle accidents can cause catastrophic injuries that lead to permanent disability, so it's important to find an attorney who understands how to accurately value your claim and fight for your rights and interests. Being involved in a pile-up accident also can cause long-lasting emotional and psychological trauma such as PTSD, anxiety, and depression. A seasoned, compassionate auto accident lawyer can take some of the weight off your shoulders so you can focus on healing and moving forward.
Contact a Pennsylvania Auto Accident Lawyer
At Thomas, Conrad & Conrad Law Offices, we're dedicated to helping injured victims and their families put their lives back together after a pile-up accident. To schedule a free consultation, contact us online or call 610-867-2900. Our car accident lawyers serve personal injury clients throughout eastern Pennsylvania at our offices conveniently located in Northampton, Lehigh, Berks, and Monroe counties.