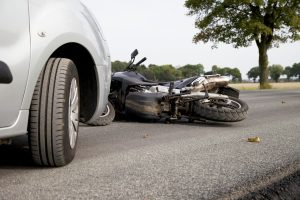 What Should I Do After A Motorcycle Accident?
At Thomas, Conrad & Conrad, we advise clients on what to do to protect themselves after a motorcycle crash. Stay calm and remove yourself from any immediate danger. Once you're in a safe place, call 911. Seeking medical attention should be your top priority, even if you do not believe you have been seriously injured. You may have internal or musculoskeletal injuries that aren't apparent, so it's best to get checked out at the emergency room.
Collect insurance and contact information from anyone who was involved in the accident. If there were any witnesses, get their contact information as well. Take pictures of your injuries and the scene of the crash and write down all details you can remember about how the accident occurred. It's also a good idea to get a copy of the police report at the scene if possible.
When Should I Contact A Motorcycle Accident Attorney?
Contacting an attorney right away increases your chances of recovering maximum compensation for your injuries. Being injured in a motorcycle accident can have serious physical, financial, and emotional repercussions. Insurance companies often try to lay blame on motorcyclists and paint them as reckless.
Our motorcycle accident attorneys can help protect your rights and act as your advocate. Motorcycle accidents also require extensive investigation. It's best to start investigating as soon as possible to preserve evidence. There is a two-year statute of limitations on personal injury claims in Pennsylvania, so it's important to seek the counsel of an attorney before time runs out. If you have lost a loved one in a motorcycle accident, you may be entitled to pursue a wrongful death claim.
What Are Common Types of Motorcycle Accidents?
Most motorcycle accidents include crashes in which a car turning left doesn't see an oncoming motorcyclist. Unsafe lane changes, blind spots, driving under the influence, abrupt stops, drowsy driving, distracted driving, and opening a car door in the path of a motorcyclist are also common causes of motorcycle accidents. Uneven or poorly maintained roads, debris in the roadway, and motorcycle design or manufacturing defects can also lead to collisions that cause catastrophic injury or death.
Can I Recover Compensation If I Wasn't Wearing A Helmet?
Yes. Helmets aren't required for motorcyclists ages 21 and older in Pennsylvania. Still, it's crucial to keep in mind that an insurance company may use it against you if you were not wearing a helmet or required protective gear, such as safety goggles. Regardless of what the law states, wearing a helmet and proper protective equipment is just good sense and can mean the difference between life and death.
What Will My Motorcycle Insurance Policy Cover?
Our motorcycle accident attorneys often represent clients who don't know or understand what their motorcycle insurance policy covers. Pennsylvania motorcycle insurance policies do not cover medical bills that result from injuries sustained in a crash. This is just one reason why it is so essential to hold a negligent driver accountable if they cause harm to a motorcyclist.
If you have a separate auto insurance policy, it will not cover any damages you sustain as a motorcyclist. Many motorcycle insurance policies have minimal or no collision coverage provided for the damage or loss of your bike. Before you commit to buying a policy, make sure to go over it with a fine-toothed comb, and purchase extensive coverage. It may seem expensive, but it's well worth it in the long run.
Why Should I Hire A Motorcycle Accident Attorney?
Injuries sustained in motorcycle accidents can be life-altering. They may require extensive medical treatment, such as surgeries, hospital stays, rehabilitation, and ongoing care. Injured victims may not be able to work, which can lead to serious financial difficulties. Conditions, such as traumatic brain injury (TBI), neck, back, and spinal injuries, and other catastrophic injuries can have a significant impact on your quality of life.
For more than 30 years, Thomas, Conrad & Conrad have aggressively challenged insurance companies who try to shirk their obligation to motorcyclists who have been hurt by another's negligence. We understand how to calculate and recover maximum compensation for your damages to ensure your health and financial future are protected.
Contact A Lehigh Valley Motorcycle Accident Lawyer
At Thomas, Conrad & Conrad, our personal injury lawyers work on contingency, which means you do not owe attorney fees unless we recover compensation in your case. To schedule a free consultation or if you have questions about motorcycle accidents in Lehigh Valley and the Pocono Mountain region, contact us online or call 610-867-2900 in Bath, or reach out to our offices in Stroudsburg, Allentown, and Topton.