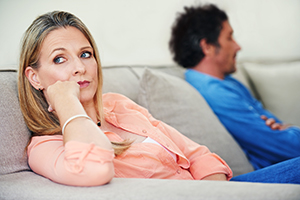 Even in an amicable parting, couples can encounter serious roadblocks when splitting property in a divorce. Our family law attorneys at Thomas, Conrad & Conrad can help you understand your rights and ensure that your interests are protected. Our team has decades of experience representing clients in issues surrounding family law and has helped hundreds of clients obtain what they're entitled to when splitting property in a divorce.
Our reliable, professional mediation and litigation services can help the process run more smoothly and minimize stress while keeping your rights and interests at the forefront.
Types Of Divorce In PA
There are two general types of divorce in Pennsylvania. The most common is no-fault divorce, in which both spouses consent to divorce or one party doesn't consent, but there's an irretrievable breakdown in the marriage. Even in an uncontested no-fault divorce, issues of property division, alimony, and child support and custody must be resolved.
In an at-fault divorce, the person filing for divorce must show that the other spouse was responsible for the failure of the marriage because of issues such as adultery, desertion, and physical or emotional abuse. Property division in an at-fault divorce can be particularly contentious, so it's critical to have an experienced attorney as your advocate who can guide you through the process and help you understand your options.
Equitable Distribution in Pennsylvania
Whether it's a 30-year marriage with multiple bank accounts, homes, rental properties, and businesses or a three-year marriage with a home, two cars, and a dog in dispute, the concept of equitable distribution applies when splitting property in a divorce in Pennsylvania. This doesn't necessarily mean a 50/50 split.
If a divorce settlement agreement cannot be reached through negotiation or mediation, the court divides and distributes the property and assets based on what a judge considers to be fair under the circumstances. Many factors are considered when dividing marital assets and debt, including the length of the marriage, the health, age, and income of both parties, the standard of living during the marriage, and custody and support of minor children.
Separate Vs. Marital Property In Pennsylvania
It's also important to distinguish separate property from marital property. Generally, marital property is all possessions acquired or earned during a marriage regardless of title. Separate property refers to belongings you owned before marriage or attained after the date of your separation. Sometimes, it may include property you receive during marriage, such as an inheritance.
Splitting up property in a divorce often presents complex legal issues that involve investigation of financial disclosure. Our divorce attorneys are well-versed in the law and know how to uncover marital assets that your spouse may be hiding. Our goal is to help you successfully obtain what you're entitled to in the division of the marital estate. We're by your side every step of the way and fight hard to protect your financial future and reach a fair settlement.
Our Family Law Attorneys Help You Get Through Challenging Times
Here at Thomas Conrad & Conrad, we understand the emotional toll a divorce can take on families. Our family law attorneys use their experience in family conflict resolution to alleviate some of the stress and help you achieve the outcome that's best for you and your children. In addition to assisting you with splitting property in a divorce and creating a fair divorce settlement agreement, we can help with family law issues such as:
Same-sex divorce and/or partition actions
Alimony
Pre- and post-nuptial agreements
Child custody, visitation, and parenting plans
Name changes
Adoption
Matters involving divorce and other family law issues often require immediate attention. Unlike many other law firms, our family law attorneys are available via mobile phone 24/7.
Quality Legal Representation At An Affordable Cost
Depending on your specific circumstances, we may be able to offer legal services for a flat fee. Flat fees help you avoid often excessive hourly attorney fees and retainers that many lawyers charge for the same types of legal services. Your attorney can give you a straightforward assessment of your case and advise you of all possible legal fees, so you won't encounter any surprises when your case is completed.
Contact Our Eastern PA Divorce Lawyers
You don't have to face the financial, emotional, and legal complexities of divorce alone. To learn more about the legal aspects of splitting property in a divorce, schedule a confidential consultation with a family law attorney today. Contact us online today.