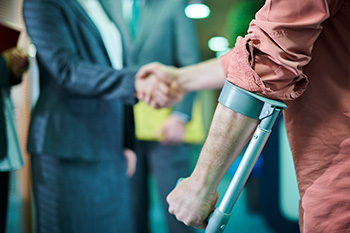 If you or a loved one has been injured in an accident that was caused by someone else's negligence, you need a personal injury lawyer you can trust. At Thomas, Conrad & Conrad Law Offices, we're dedicated to helping injured victims throughout eastern Pennsylvania recover the financial compensation they deserve. Our accident lawyers thoroughly assess your case to determine the best course of action for your specific situation. Our attorneys fight for your rights and help you recover compensation for medical expenses, lost wages, pain and suffering, and other damages.
Our Motor Vehicle Accident Lawyers Handle All Types of Cases
Thousands of people are injured or killed in motor vehicle accidents every day. There are countless scenarios in which someone can become injured or lose their life. Our auto accident lawyers are well-versed in handling cases involving all types of accidents, including:
Motorcycles: Because of the lack of protection surrounding them, motorcyclists often suffer serious injuries when involved in a crash. Whether you've been injured as a motorcyclist or as an occupant of another vehicle, our motorcycle accident lawyers can help. Our team has a proven track record of success when it comes to making recoveries for clients in all types of motorcycle accident cases.
Tractor-Trailers: Due to their excessive weight and size, 18-wheelers and other commercial vehicles can cause disastrous multi-vehicle pileups and fatal accidents. Cases involving big trucks require the counsel of experienced truck accident lawyers who understand the ins and outs of the Federal Motor Carrier Safety Act and Pennsylvania commercial trucking regulations. Our truck accident lawyers aren't afraid to take on large companies and their insurers. We work to help you recover the maximum compensation you need to protect your health and financial future.
Drunk Drivers: When a motorist who's under the influence of alcohol or drugs gets behind the wheel, serious crashes and injuries can occur. If you're a victim of an accident involving a drunk driver, you may be entitled to seek punitive damages in addition to compensatory damages. Our motor vehicle accident attorneys have decades of experience handling cases involving drunk drivers, including dram shop claims.
Hit & Run: After a hit-and-run accident, you may not know where to turn. Our car accident lawyers can assist you with claims that may be covered by your PIP (personal injury protection) and uninsured motorist coverage under your own car insurance policy. Our car accident lawyers also work with law enforcement and may hire investigators to help find a hit-and-run driver.
Rideshare Accidents: Companies such as Lyft and Uber have created a new world when it comes to motor vehicle accident claims. Although rideshare companies provide some insurance coverage to passengers, it's important to pursue all avenues of compensation to ensure your expenses and damages are fully covered. This may include filing claims with multiple insurance companies, which can be time-consuming and overwhelming. Our motor vehicle accident lawyers take the weight off your shoulders so you and your family can focus on healing.
Other Collisions: Poor road conditions, distracted driving, and speeding are just a few factors that can lead to someone getting hurt or killed in other types of motor vehicle collisions. Our car accident lawyers use their extensive knowledge of personal injury law to work toward the best possible outcome for your case.
Premises Liability Claims
Property owners and businesses have a duty to keep their premises safe for all who enter. Whether you've suffered an injury because of a slip and fall accident in a grocery store or you're the victim of a dog bite, our premises liability lawyers know how to accurately value your claim and pursue a fair recovery for your damages.
Types of Injuries Sustained in Accidents
Injuries sustained in accidents can have life-altering repercussions for victims and their families. Victims often suffer catastrophic injuries such as:
Amputation
Head and neck injuries
Spinal cord injuries
Traumatic brain injury
Burns and disfigurement
Organ damage
Compound fractures or crushed bones
These injuries may cause permanent damage that turns lives upside down, both emotionally and financially. Victims often require lifelong care and may no longer be able to work or enjoy the quality of life they once had.
Recovering Damages in Accident Claims
Even if you've suffered a milder injury such as whiplash, it can cause chronic pain, headaches, and neck and back problems. Piles of medical bills and time off from work can put you in financial peril. That's why you need a seasoned accident attorney who fights for your rights and helps you seek full and fair compensation for damages such as:
Past and future medical bills
Past and future wage loss
Pain and suffering
Emotional distress
Loss of companionship and consortium
Other damages specific to your case
Wrongful Death Claims
Losing a loved one is a traumatic experience. It can be wrought with even more pain and sadness when someone you love dies due to the negligence or wrongful actions of another. Although no amount of money can bring your loved one back, our skilled car accident lawyers know how to determine the types and amounts of damages you may be entitled to recover in a wrongful death claim. Our accident attorneys know how to prove fault in these types of cases and provide the compassionate legal support you need.
Contact an Accident Attorney in Pennsylvania
If you've been injured or have lost a loved one in an accident, you don't have to go it alone. Call Thomas, Conrad & Conrad Law Offices at 610-867-2900, or contact us online to schedule a free consultation. With offices in Northampton, Lehigh, Berks, and Monroe counties, we represent injured victims throughout all counties in Eastern Pennsylvania.