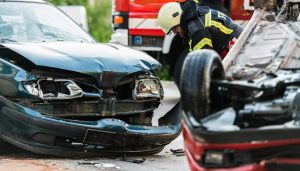 At Thomas, Conrad & Conrad Law Offices, our legal team is dedicated to getting injured victims the compensation they deserve. Thousands of people are injured or killed in motor vehicle crashes, slip and fall accidents, and other types of mishaps every day. Although most accidents that cause personal injury are not intentional, they are often the result of the negligent or careless actions of others. Our accident lawyers handle cases involving countless types of accidents and injuries. We protect your rights and deal with all aspects of your claim, which takes the weight off your shoulders so you can focus on healing.
Types Of Personal Injury Accidents
Car Accidents
Car accidents are the most common type of personal injury case. They can have long-lasting financial, physical, and emotional repercussions. Regardless of whether you or a loved one has suffered a minor or catastrophic injury, if an accident was caused by someone else you may be entitled to compensation for your medical bills, pain and suffering, lost income, and other damages.
Commercial Truck Accidents
Accidents involving tractor-trailers and other commercial vehicles can have fatal consequences. It's particularly important to hire an accident attorney who is familiar with the Federal Motor Carrier Safety Act (FMCSA), which sets regulations surrounding the operation of commercial trucks. There may be multiple sources for compensation in a commercial truck accident, including the driver, trucking company, parent company, parts manufacturer, and inspection and maintenance provider.
Pursuing compensation for damages from more than one party can be daunting. Our accident attorneys are here to help make the process run smoothly from start to finish, including the collection of evidence, communication with your medical providers, negotiations with insurance companies, and court filings.
Motorcycle And Bicycle Accidents
Victims of motorcycle and bicycle crashes often sustain serious injuries due to the lack of protection they have when riding. When hit by another vehicle, riders are often thrown from their bikes, which can lead to road rash, broken bones, severe head, and spinal injuries, and other catastrophic injuries. The cost of medical treatment can add up quickly. An injured victim may also need ongoing, lifelong care and treatment for their injuries. That's why it's essential to seek the counsel of an experienced accident attorney immediately following a crash. Our attorneys understand how to properly value catastrophic injury claims and pursue the full compensation you need to protect your health and financial security.
Pedestrian Accidents
Pedestrians can also be severely injured or killed when hit by a motor vehicle. Driver inattention or distraction is often the cause of these types of accidents. Texting and driving, drunk driving, and speeding can all be considered negligent acts. If you're a pedestrian who was injured due to a motorist's careless driving, you will most likely be eligible for compensation for your damages.
Slip And Fall Accidents
Slip, trip, and fall accidents rest under the legal umbrella of premises liability. Property owners and businesses have a legal duty to keep their premises safe for visitors. When they fail to perform proper maintenance or repairs and it leads to injury, the business or property owner may be liable for damages. Claims brought against owners for incidents like dog bites and swimming pool accidents are also considered premises liability cases.
Liability And Negligence In Personal Injury Cases
The first critical step in most personal injury cases is establishing who is liable for your damages. Liability usually hinges on the legal concept of negligence. The main elements of negligence that must be proven in a personal injury claim include:
That the at-fault party owed a duty of care
That they failed to meet that duty of care
That the cause of your injuries and losses was due to the action or inaction of the at-fault party
That damages resulted from their action or inaction
Proving negligence and recovering maximum compensation on your own can be nearly impossible if you're unfamiliar with all aspects of personal injury law. Although an initial settlement offered by an insurance company may seem generous, don't be fooled. Insurance companies do not have your best interests in mind. Their main concern is their bottom line, and they'll do anything they can to offer a minimal settlement or deny claims altogether.
Our personal injury accident lawyers at Thomas, Conrad & Conrad Law Offices are well-versed in aggressively negotiating with insurance companies. We are also skilled trial attorneys who have recovered millions of dollars in court cases when litigation is necessary.
Contact An Accident Attorney To Schedule A Free Consultation
If you've been injured or have lost a loved one due to someone else's negligence, contact an accident lawyer at Thomas, Conrad & Conrad Law Offices online or call 610-867-2900 to schedule a free consultation.