In a split second, a motorcycle accident can change your life forever. Our accident attorneys at Thomas, Conrad & Conrad Law Offices have helped hundreds of clients deal with the grave physical, emotional and financial repercussions that can result when someone is hurt or killed in a motorcycle accident. Our motorcycle lawyers understand that there is often a stigma attached to motorcycle riders. They are sometimes portrayed as reckless or irresponsible by insurance companies, simply to minimize or even deny motorcycle injury claims. We're dedicated to smashing these stereotypes and fighting to get you and your family maximum compensation for your damages.
Common Causes Of Motorcycle Accidents
Motorcycle accidents are usually caused by other drivers because bikes are not as visible as larger vehicles. That's why it's vital to follow the rules of the road and make your presence known by wearing reflective gear. Stay aware of your surroundings at all times.
Some common causes include:
Unsafe lane changes: When a driver doesn't check their blind spots or signal when changing lanes, serious accidents, and injuries can occur.
Left-turn accidents: Motorists may misjudge distance or not even see a motorcycle that's turning left. Left-turn accidents are often fatal to motorcyclists.
Sudden stops: Rear-end collisions happen when a motorist follows too closely or has to make an abrupt stop, which can cause serious injury or death. When you're riding, always make sure you leave plenty of room between you and the car in front of you. If someone is tailgating, get away from them as soon as you can.
Speeding: Driving any vehicle at excessive speeds can be deadly. The faster the speed, the greater the impact and incidence of catastrophic or fatal injuries.
Hazardous road conditions: Potholes, crumbling roadways, debris, inadequate signage, and wet roads can increase your chances of losing control. If an accident was caused by poor road conditions, the agency responsible for the maintenance of the road may be liable for your damages.
Mechanical failure or defect: The manufacturer of a faulty or poorly designed motorcycle part may be legally responsible for any injuries or deaths caused by use of the defective part. Our motorcycle lawyers pursue all possible avenues to help you recover maximum compensation for your damages.
Lane splitting: This dangerous practice is illegal in most states, including Pennsylvania. Riding your motorcycle between two lanes of traffic puts you and others in unnecessary peril.
Types Of Injuries Sustained In Motorcycle Accidents
Because they don't have the protection surrounding them that other motorists have, motorcyclists often sustain catastrophic injuries or lose their lives.
Types of injuries include: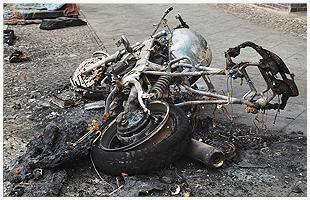 Broken or crushed bones
Lost limbs
Road rash
Burns
Spinal cord injuries
Paralysis
Skull fractures
Traumatic brain injury
Disfigurement
Psychological conditions such as PTSD, depression, and anxiety
How Can A Motorcycle Lawyer Help?
At Thomas, Conrad & Conrad, our motorcycle attorneys advocate on your behalf so you and your family can focus on healing. Insurance company representatives often pressure injured victims to settle quickly. Although the settlement offer may seem generous, the amount is usually only a fraction of what you will need to cover damages like past and future medical expenses, past and future loss of income, pain, and suffering, loss of enjoyment of life, and other damages.
Our experienced litigators are familiar with their tactics. We fight to protect your rights and help to ensure you receive the full compensation to which you are legally entitled. If a loved one was killed in an accident caused by someone else's negligence, we have the investigative resources and experience necessary to find justice and compensation for your family.
Recent Recoveries By Thomas, Conrad & Conrad Law Offices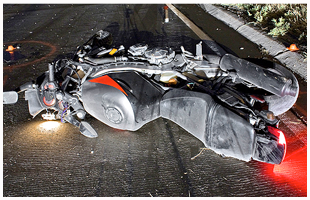 After taking a case over from another personal injury law firm, attorney Erik J. Conrad was able to obtain a trial verdict for the client that was more than eight times the settlement offer that the previous law firm encouraged the client to accept.
Despite a motorist being found not guilty in a traffic citation case, we were able to successfully recover $200,000 for the motorcyclist who was injured by the motorist's actions.
Attorney Erik Conrad obtained a $650,000 recovery for a Lehigh County man who suffered a fractured leg in a motorcycle accident.
In 2018, our firm litigated and recovered compensation in more than 90 percent of motorcycle cases where the defense offered zero in settlement before trial.
Contact A Motorcycle Attorney Today
If you've been injured or have lost a loved one in a crash, our motorcycle lawyers at Thomas, Conrad & Conrad Law Offices can help. Call 610-867-2900 or contact us online to schedule a free consultation.