A motorcycle accident can change your life forever. Our motorcycle accident lawyers at Thomas, Conrad & Conrad Law Offices understand the grave physical, emotional, and financial repercussions of being hurt or losing someone in a crash. We help personal injury clients throughout the Lehigh Valley pursue maximum damages when an injury or death is caused by another's negligence.
Common Causes of Motorcycle Accidents
Motorcycle crashes and bicycle accidents are often caused by other drivers because they are not as visible as larger vehicles. That's why it's vital to follow the rules of the road, stay aware of your surroundings, and make your presence known by wearing reflective gear.
Some common causes of these types of accidents include:
Unsafe lane changes: When a driver doesn't check their blind spots or signal when changing lanes, serious accidents and injuries can occur.
Left-turn accidents: Motorists may misjudge distance or not even see a motorcycle that are approaching in an coming lane from the opposite direction. As such the motorist makes their left hand turn directly in front of the motorcyclist approaching vehicle. Unfortunately, left turn crashes are often fatal to motorcyclists.
Sudden stops: Rear-end collisions happen when a motorist follows too closely or must make an abrupt stop, which can cause serious injury or death. When you're riding, always make sure you leave plenty of room between you and the car in front of you. If someone is tailgating behind you, get away from them as soon as you can.
Speeding: Driving any vehicle at excessive speeds can be deadly. The faster the speed, the greater the impact and incidence of life-altering injuries and fatalities.
Hazardous road conditions: Potholes, crumbling roadways, debris, inadequate signage, and wet roads can increase your chances of losing control. If a motorcycle accident was caused by poor road conditions, the agency responsible for the maintenance of the road may be liable for damages.
Mechanical failure or defect: The manufacturer, designer, or seller of a faulty or poorly designed motorcycle part may be legally responsible for any injuries or deaths caused by the defective part. Our team pursues all possible avenues to help you recover maximum compensation for your damages.
Our motorcycle accident lawyers in Pennsylvania understand that there is often a stigma attached to motorcycle riders. They are sometimes portrayed as reckless or irresponsible by insurance companies to minimize payouts or deny personal injury claims. We're dedicated to smashing these stereotypes and fighting to get you and your family maximum compensation for your damages.
Types of Motorcycle Accident Injuries
Because they don't have any protection surrounding them, motorcyclists often sustain catastrophic injuries or lose their lives.
Common types of motorcycle injuries include: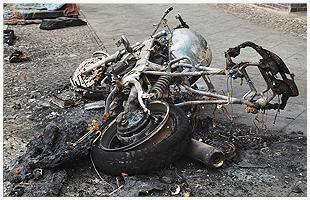 Broken or crushed bones
Lost limbs
Road rash
Burns
Spinal cord injuries
Paralysis
Skull fractures
Traumatic brain injury
Disfigurement
Psychological conditions such as PTSD, depression, and anxiety
These conditions often require extensive medical treatment and long-term care. Injuries sustained in motorcycle accidents can also impact a person's ability to make a living and enjoy the things they once loved. Although nothing can change what happened, our motorcycle accident lawyers try to help families find a modicum of justice by holding responsible parties financially accountable for their negligent actions.
Types of Damages
Our legal team includes some of the best motorcycle accident lawyers in the Lehigh Valley. We have a proven track record of success in helping injured victims obtain maximum compensation for damages such as: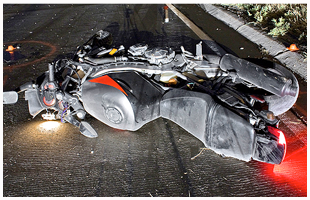 Medical bills
Wage loss
Loss of earning capacity
Cost of future medical bills and nursing care
Pain and suffering
Mental anguish
Loss of companionship and consortium
Loss of enjoyment of life
Disfigurement
Embarrassment and humiliation
If you've lost a loved one in a motor vehicle accident that was someone else's fault, a wrongful death claim and/or survival action may be an effective course of action to hold negligent parties accountable. Our law firm has the investigative resources and experience necessary to find justice and compensation for your family.
In some cases, an injured party may be able to obtain punitive damages. These types of damages are rare, and only apply if a defendant's conduct was extremely reckless or intentional. Punitive damages aren't meant to compensate the victim, but rather to punish the defendant for their egregious behavior and deter them and others from committing similar acts.
The specific damages you may be entitled to recover will depend on the circumstances of your case. Our motorcycle accident attorneys thoroughly evaluate and investigate your case to determine which types of damages may be possible to recover.
Calculating Damages in Motorcycle Accident Claims
Accurate calculation of what your claim is worth requires the knowledge and experience of a seasoned Pennsylvania motorcycle accident attorney. Determining a dollar amount for economic damages such as the cost of medical bills and wage loss is straightforward in many cases. However, calculating non-economic damages like pain and suffering or loss of enjoyment of life is much more challenging. If you've suffered a catastrophic injury or permanent disability, it can also be tough to determine future medical expenses, loss of earning capacity, and other accident-related damages as well.
Several factors are taken into consideration when calculating the value of a motorcycle accident claim. The scope and severity of your injury, the expected length of your recovery, and how physical and emotional pain has affected your life can all have an impact on the value of your claim. Depending on the circumstances, insurers use different formulas for calculating damages, but their main goal is to pay out as little as possible. Our motorcycle accident lawyers may consult medical and financial professionals who help us calculate the value of your claim. This can be a complex process. You can trust us to come to accurately value your motorcycle accident damages, protect your rights, and advocate for your interests in negotiations with insurers.
Proving Negligence in Motorcycle Accident Claims
Proving negligence is the foundation on which many personal injury claims are built. Four elements must be present to prove negligence, including:
Duty– The injured party was owed a duty of care by the negligent person or entity (defendant)
Breach of duty – Duty of care was breached by the defendant
Causation – The actions or inaction of the defendant was a proximate cause of the plaintiff's injury
Damages – The injured party suffered harm or losses due to the defendant's actions
Determining liability and proving negligence is no easy task, especially if you lack legal training and experience. The best motorcycle accident attorneys thoroughly investigate your case, gather and examine evidence, interview witnesses, and may hire accident reconstructionists to determine how a motorcycle crash occurred. We bring all these elements together to prove negligence and develop convincing arguments that show who was at fault and how their negligence caused your injury.
Statutes of Limitations for Motorcycle Accident Claims in Pennsylvania
In Pennsylvania, injured victims and their families have two years to file a personal injury lawsuit or wrongful death action against a negligent party. Failing to meet this deadline can result in your case being dismissed and you may not have another opportunity to pursue compensation for damages. It's always best to contact a motorcycle accident lawyer as soon as you can if you've been hurt in a crash. Collecting evidence right away and reviewing events while they are fresh in your mind can give you a better chance of winning your motorcycle accident case.
Our Motorcycle Accident Lawyers Look Out for Your Best Interests
At Thomas, Conrad & Conrad, our motorcycle accident lawyers are your dedicated advocates and handle all aspects of your case so you and your family can focus on healing. Insurance company representatives often pressure injured victims to settle quickly. Although the settlement offer may seem generous, the amount is usually only a fraction of what you'll need to cover medical expenses, loss of income, pain, and suffering, and other damages after a motorcycle crash. Our experienced litigators are familiar with insurance company tactics and fight to help you obtain the full amount of compensation you may be entitled to receive.
Recent Recoveries by Our Motorcycle Accident Lawyers
After taking a case over from another personal injury law firm, attorney Erik J. Conrad was able to obtain a trial verdict for the client that was more than eight times the settlement offer that the previous law firm encouraged the client to accept.
Despite a motorist being found not guilty in a traffic citation case, we were able to successfully recover $200,000 for the motorcyclist who was injured by the motorist's actions.
Attorney Erik Conrad obtained a $650,000 recovery for a Lehigh County man who suffered a fractured leg in a motorcycle accident.
In 2022, our firm litigated and recovered compensation in more than 90 percent of motorcycle cases where the defense offered zero in settlement before trial.
Earlier in 2023 during the week preceding the jury trial Attorney Conrad obtained a $900,000 settlement in a Lehigh Valley left hand turn in front of motorcyclist case.
Contact A Motorcycle Accident Lawyer in the Lehigh Valley
If you've been injured or have lost a loved one in a motorcycle crash, you're not alone. Our personal injury lawyers at Thomas, Conrad & Conrad Law Offices can help you pursue the compensation you need to get back on your feet and move on with your life. Contact us online or call 610-867-2900 to schedule a free consultation with a motorcycle accident attorney. Our team proudly serves personal injury clients throughout the Lehigh Valley and eastern Pennsylvania.