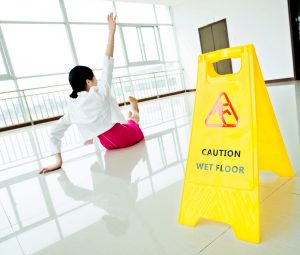 Property owners and businesses have a duty to maintain their premises and keep them safe for all who enter. Whether it's a slip and fall or swimming pool accident, there are many ways in which you can be injured on someone else's property. These types of accidents and injuries fall under the legal umbrella of premises liability. At Thomas, Conrad & Conrad Law Offices, our experienced personal injury attorneys have handled thousands of premises liability cases and can help you recover maximum compensation for your medical bills, lost income, and pain and suffering, and other damages.
Types Of Premises Liability Accidents
Slip, trip, and fall accidents: Wet floors, ice and snow, broken stairs, uneven flooring, and loose rugs are just a few hazards that can cause serious injuries like broken bones, lacerations, sprains, and head injuries.
Falling items and debris: These types of accidents often occur on construction sites and in retail stores. Inadequate safety measures and improperly placed inventory or tools can lead to life-changing catastrophic injuries such as traumatic brain injuries, head and neck injuries, and paralysis.
Dog bites and animal attacks: While pets are often considered part of the family, if they cause injury to someone, you may be liable for that person's medical bills, pain and suffering, and other damages.
Drowning and pool injuries: Lack of proper fencing and malfunctioning equipment can lead to children and adults becoming injured or drowning in a pool.
Elevator or escalator failure: Improper maintenance and service of escalators and elevators can cause mechanical failure, resulting in serious injury such as crushed bones, lost limbs, and even death.
Fires and explosions: Improper storage and maintenance of hazardous chemicals and items like propane tanks can cause explosions, burns, disfigurement, and death.
Pennsylvania Premises Liability Law
In any premises liability case, a key element is proving negligence, which can be tricky to do on your own. That's why it is vital to seek the counsel of an experienced personal injury attorney if you've been hurt on someone else's property. Our skilled premises liability lawyers understand how to effectively demonstrate that a property owner or business acted in a negligent manner that led to your injuries.
The four elements of building a solid premises liability claim include:
You were owed a duty of care. You must be able to show that the property owner or business had a duty of care to protect you from potential harm.
There was a breach of duty of care. You must demonstrate that a property owner or business did not act with reasonable care in regard to the repair or maintenance of the property. Property owners must take reasonable steps to remedy or warn visitors of a dangerous condition.
You were harmed as a result of negligence. You must show that the property owner's negligence or carelessness was the direct cause of your injury.
You can document and quantify your damages. You must present evidence that supports your claim for compensation, which may include medical bills, proof of lost wages, and other supporting evidence. Our attorneys are skilled litigators and are well-versed in the proper valuation of personal injury damages.
Recovering Compensation In A Premises Liability Case
Determining fault and proving negligence in a premises liability case can be challenging. Our skilled legal team has a proven track record of success in recovering maximum compensation for our clients, both in and out of court. We collect all relevant evidence, handle negotiations with insurance companies, and fight for your rights to help you recover the maximum compensation you deserve. You may be entitled to compensation for:
Past and future medical expenses
Past and future lost earnings
Pain and suffering
Emotional distress
Loss of enjoyment of life
Loss of companionship and consortium
Wrongful death
Contact A Premises Liability Lawyer Today
If you've been injured or have lost a loved one due to someone else's negligence, our premises liability attorneys can help you find the justice and compensation you deserve. With four convenient locations to choose from, Thomas, Conrad & Conrad makes it easy to find the quality legal representation you need. Our offices are located in Bath, Allentown, Stroudsburg, and Topton, Pennsylvania. Call us today at 610-867-2900 or contact us online to schedule a free consultation.