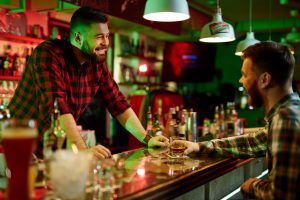 Drunk drivers on Pennsylvania roadways cause thousands of injuries and hundreds of deaths each year. Our personal injury lawyers at Thomas, Conrad & Conrad Law Offices have seen the devastating, long-term effects that being injured in an accident with a drunk driver can have. We are committed to helping clients and their families recover maximum compensation for their injuries and losses, holding responsible parties accountable. One way we do this is by invoking Pennsylvania's dram shop law, which holds businesses and individuals legally responsible for serving visibly intoxicated persons who cause injury or death to others.
Pennsylvania Dram Shop Claim Law
The term "dram shop" originates in England, where gin was once sold by the spoonful or "dram." Pennsylvania dram shop claims are often brought when an intoxicated person causes a serious accident that leads to injury or death. In addition to bringing a personal injury lawsuit against the negligent driver, dram shop claims provide another avenue of compensation if it's suspected that a bartender or server gave a visibly intoxicated person alcohol.
Dram shop claims may be filed in different types of personal injury lawsuits, not just those involving auto accidents. For example, if an intoxicated person in a bar severely injures someone in a fistfight, the victim may be able to sue the bar under dram shop law. Not only that, if an establishment serves a visibly intoxicated person who falls, trips, or becomes seriously injured, they may be able to sue the bar owner under the dram shop law.
How Does Dram Shop Law Work?
According to the Centers for Disease Control, 29 people die in motor vehicle crashes involving impaired drivers in the United States each day. Even one of these preventable fatalities is far too many. Pennsylvania' s dram shop law applies to businesses that serve alcohol, and in some cases, private events. If a server or bartender has committed other liquor violations, such as serving alcohol to a minor, they may also be criminally charged by the Commonwealth and civilly sued for financial damages.
There are elements that must be considered to successfully bring a dram shop claim, including:
An employee or agent of the establishment served alcohol to someone who was visibly intoxicated. This is based on apparent signs of intoxication, such as slurred speech, staggering, and bloodshot eyes.
High blood alcohol content (BAC) or a guilty plea in a DUI case may also be used as evidence to prove visible intoxication in a dram shop claim.
Another element that must be proven is that the establishment's bartender or server's choice to serve a visibly intoxicated person directly led to injury or death.
A judge or jury is not permitted to reach its verdict solely on the basis of speculation and conjecture, but our legal team may use expert testimony that is corroborated by circumstantial evidence to substantiate a cause of action
Recovering Compensation In A Dram Shop Claim
At Thomas, Conrad & Conrad, our attorneys pursue every possible avenue for maximum compensation in all personal injury cases. Suits involving injuries or wrongful death caused by someone who was under the influence of alcohol or drugs may be cause to investigate and file a dram shop claim. You may be entitled to compensation for damages such as:
Past and future medical bills
Past and future loss of income
Pain and suffering
Emotional distress
Loss of companionship or consortium
Loss of enjoyment of life
Although it's not very common, other damages, such as punitive damages may apply if a defendant's conduct was particularly egregious. Punitive damages are intended to punish a defendant and deter them and others from committing similar acts. Our personal injury lawyers are well-versed in Pennsylvania dram shop law and have a proven track record of success in recovering compensation for clients in these types of cases. Whether it's in negotiations with insurance companies or in the courtroom, we fight for your rights and don't back down until we recover the full compensation you deserve.
Contact Us To Schedule A Consultation
At Thomas, Conrad & Conrad Law Offices, our attorneys understand how traumatic being injured or losing someone in a drunk driving accident can be. We're by your side throughout your dram shop claim to provide the legal and emotional support you and your family need. Call us today at 610-867-2900 or contact us online to schedule a consultation. Our offices are located in Bath, Allentown, Stroudsburg, and Topton, Pennsylvania.