At Thomas, Conrad & Conrad Law Offices, our compassionate legal team understands that issues surrounding matters of family law can be contentious. Our lawyers provide top-notch legal representation and support to ensure the protection of your rights. Your best interests and well-being are at the core of everything we do.
We Can Help You with The Following Cases:
Family Law Services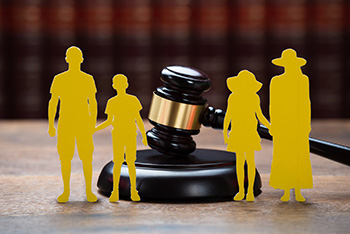 Our legal team at Thomas, Conrad & Conrad has years of experience handling family law issues. Whether you are seeking child support or need help with a PFA, we are here to listen, discuss your specific circumstances, and provide legal advice and options you can trust.
Our services include:
Divorce with Property: The complex financial, emotional, and legal issues that can come with divorce require the experience of seasoned family law attorneys who protect your rights and interests. From property division to marital debt, our team is knowledgeable in all aspects of Pennsylvania divorce law.
No-Fault Consensual Divorce: Get divorced easily at one of Lehigh Valley's most reasonable rates. We provide legal services for uncontested, no-fault divorce without property issues for an affordable flat fee of $995.00 plus court costs.
Child Custody: Our family law attorneys have years of experience handling cases involving physical and legal custody, relocation, visitation, grandparents' rights, adoption, and more.
Child and Spousal Support: Our attorneys are well-versed in helping clients resolve disputes surrounding child support and alimony, including modification and enforcement of existing orders.
Protection from Abuse Order (PFA): At Thomas, Conrad & Conrad, we believe that victims of domestic abuse should never suffer alone. We provide the legal support you need to stay safe. If you've been falsely accused of domestic violence, we can help protect your rights and reputation.
Conflict Resolution and Litigation
We understand that family law issues can take a grave toll on children, parents, and other members of the family. Our legal team is experienced in resolving these matters through negotiation and mediation, which can cut down on stress and help you avoid costly court battles. However, if issues cannot be reasonably resolved through these methods, our attorneys are prepared to act as your staunch advocate and litigate your case in court. Regardless of the circumstances, we work tirelessly to achieve outcomes that protect your interests and help you move on with your life.
We're Here For You
We know that legal matters surrounding divorce, child custody, and domestic abuse can arise at any time. If you're facing issues that require immediate attention, our lawyers are available to answer any questions you may have and provide assistance when you need it.
The Cost Of Legal Representation
We provide top-notch legal representation for a flat fee in many types of family law matters. Flat fees help you avoid the costly retainers and exorbitant hourly fees other attorneys charge for the same type of services.
Contact Our Family Law Attorneys
At Thomas, Conrad & Conrad Law Offices, our family law team is dedicated to providing the personalized attention and quality legal representation you deserve. We are by your side every step of the way. We aggressively protect your rights while always keeping the best interests of your family in mind. Contact us online or call us today at 610-867-2900 to schedule a consultation. Our offices are conveniently located in Bath, Allentown, Stroudsburg, and Topton, Pennsylvania.
Schedule a consultation today with one of our highly qualified lawyers.