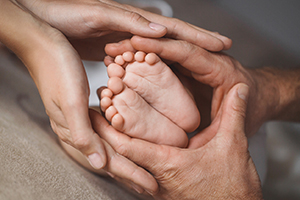 Whether you're adopting from the foster care system, a private agency, or you're interested in adopting a stepchild, it's important to make sure proper procedures and laws are followed. At Thomas, Conrad & Conrad, our adoption lawyers are dedicated to helping families connect and grow. We guide you through the complex process and provide the legal support you need to ensure your family's rights are protected.
Adoption Services in Pennsylvania
Our attorneys are well-versed in all aspects of Pennsylvania adoption and family law. We provide efficient, effective representation that can help you avoid pitfalls in the adoption process that can end in heartbreaking outcomes. We understand that no two families are alike, and we're proud to help parents and children find the love and happiness of human connection. Our adoption lawyers can assist you with:
Stepchild and second parent adoption: Adopting a spouse's or partner's child can help solidify your relationship and gives you the right to make important decisions on their behalf. Second parent adoption is also a practical legal option for LGBTQ parents whose spouse or partner wishes to adopt.
Kinship adoption: Family members, such as a grandparents, aunts, and uncles, or even siblings, often adopt when a child's parents are unable or unwilling to care for them. Our family law attorneys can also assist you with issues surrounding child custody and legal guardianship of a family member.
Domestic private adoption: There are thousands of private adoption agencies in the United States. To ensure you're working with a reputable organization that has your best interests in mind, it's critical to have a skilled adoption attorney by your side. It's also important to understand which adoption expenses and fees are legal to pay birth mothers and which ones aren't legal under Pennsylvania law.
International adoption: Working with an adoption lawyer who can help you navigate the world of international adoption can make the process run more smoothly and expediently, ensuring your rights are protected.
Foster to adopt: There are hundreds of children in the Pennsylvania foster care system who are waiting for permanent homes. Families interested in fostering or adopting must submit to a criminal background check and obtain child abuse clearances. You're also required to attend training and undergo a home study. Our adoption attorneys are knowledgeable about the ever-changing Pennsylvania adoption law and can help you navigate the foster-to-adopt process.
Representation for birth parents: If you are a parent who's thinking of giving a child up for adoption, it's important to know your rights under the law. Pennsylvania adoption laws are designed to protect both the rights of birth parents and prospective adoptive parents. A birth mother can consent to the adoption, or terminate parental rights, 72 hours or more after the child is born. A birth parent may also revoke their consent within 30 days once an approval is executed.
Having an adoption lawyer to advise you of your rights can help you avoid emotional and legal pitfalls that can hurt everyone involved. A birth father also has rights to his biological child, but paternal rights can be involuntarily terminated if he has abandoned or abused a child.
Surrogacy: Although there are no specific surrogacy laws in Pennsylvania, it is legal. If you're considering surrogacy as a parent or surrogate, it's critical to have an adoption lawyer create a surrogacy contract that addresses various issues, such as financial compensation, medical expenses, and establishing the intended parents' rights.
Adult adoption: Adoption of any person who's aged 18 years or older is legal in Pennsylvania. People pursue adult adoption for many different reasons, including adopting a child who has aged out of the foster care system, to care for elderly or incapacitated adults, and to care for physically or mentally disabled adults.
Other Family Law Matters in Pennsylvania
In addition to helping you with issues surrounding adoption and child custody, our team at Thomas, Conrad & Conrad can also assist you with family law matters, such as:
Contact Our Pennsylvania Adoption Lawyers
At Thomas, Conrad & Conrad Law Offices, our adoption attorneys provide the compassionate, personalized legal services you need to deal with any family law matter that may come your way. Contact us online to schedule a consultation.