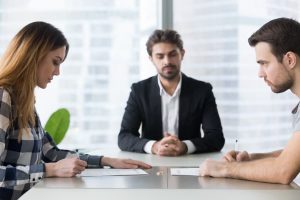 When both spouses agree on all the key issues surrounding a divorce, no-fault uncontested divorce is an affordable, expedient option for dissolving your marriage. Our attorneys at Thomas, Conrad & Conrad Law Offices have decades of experience helping clients file for uncontested divorce in Lehigh, Northampton, Monroe, and Berks counties as well as the surrounding areas. Our family law team can assist you with your no-fault uncontested divorce in Pennsylvania, including complex divorce cases involving property, and issues surrounding, alimony, child custody, and more.
Affordable Uncontested Divorce By Mutual Consent
If you and your spouse are on good terms and have no children or property, uncontested divorce by mutual consent can help you avoid a long, drawn-out divorce process. Thomas Conrad & Conrad Law Offices provides uncontested no-fault divorces without property or custody issues for the most reasonable cost in the Lehigh Valley. Our flat fee is only $1,500.00 plus the divorce filing fee, which is paid to the court.
Uncontested Divorce With Property
Although filing for uncontested divorce by mutual consent is fairly straightforward in Pennsylvania, it's critical to have an attorney assist you with the process, especially if you have property, debts, and/or children. A divorce lawyer can ensure your interests are protected and help you avoid common procedural errors that can hold up the process. Depending on your specific circumstances, your divorce attorney may charge a flat or hourly fee.
Divorce Settlement Agreements
If children or assets are involved in your divorce, you must agree on certain issues, including:
Division of property and debts
Alimony
Child support
Any other matters that should be resolved and documented
Our attorneys can help you draft a detailed divorce settlement agreement that outlines the terms of your divorce, including the rights and responsibilities of each party, division of property, assets and debts, and issues surrounding custody and support. Having an experienced divorce attorney to help you draft this vital document ensures that the terms are consistent with Pennsylvania's uncontested divorce law.
Filing For Divorce In Pennsylvania
One spouse must have lived in PA for at least six months before filing for uncontested divorce in Pennsylvania. Divorce by mutual consent is typically granted within 90 days of the divorce filing. You must first file a divorce complaint with the Court of Common Pleas in the county where you or your spouse lives. Your complaint should explain the reason for your divorce and include any other matters you wish for the court to decide. Both parties are required to give sworn affidavits stating that the marriage is irreparably broken. Our divorce attorneys can advise you on the specifics of filing for uncontested divorce in local Pennsylvania counties.
Why You Need A Divorce Attorney
Even if a divorce is amicable, conflict can arise at any time and may cause negotiations to break down. If things get contentious, having an experienced attorney in your corner is critical to prevent the process from stalling. It's also important to seek the counsel of an attorney who is familiar with Pennsylvania law to ensure your rights are protected if your divorce requires formal mediation or litigation in court.
Our team understands that navigating divorce can be an emotional and financial challenge, even if it's cordial and doesn't involve any assets. We're here to take some of the weight off your shoulders. Our uncontested divorce attorneys provide the experienced legal counsel and personalized support you need to reach a fair resolution and move forward.
Contact Our Lehigh Valley Uncontested Divorce Lawyers
If you and your spouse are considering a divorce or separation, our uncontested divorce attorneys in Eastern Pennsylvania can help. Call Thomas, Conrad & Conrad Law Offices at 610-867-2900 or contact us online to schedule a confidential consultation with an uncontested divorce lawyer in Allentown, Bath, Stroudsburg, or Topton, Pennsylvania.