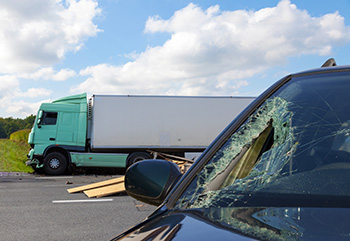 Some of the worst motor vehicle accidents in eastern Pennsylvania involve semi-trucks and other large commercial vehicles. At Thomas, Conrad & Conrad Law Offices, we understand that injured victims often suffer serious injuries that harm all aspects of their lives. Our truck accident lawyers have decades of experience successfully recovering compensation for victims of tractor-trailer crashes. Whether you have been hurt or you've lost a loved one in a truck accident, our personal injury attorneys are dedicated to fighting for your rights and protecting your interests.
Truck Accident Claims Are More Complex Than Auto Accident Cases
Although truck accidents and other motor vehicle crashes have some similarities, they also have many distinct differences. Due to their large weight and size, semi-trucks are more prone to causing substantial property damage, severe injury, and death. Many victims of large truck accidents sustain catastrophic injuries that require extensive long-term medical care. Permanent disability may leave victims unable to work and support their families.
Truck accident claims are complex. It's important to hire an experienced truck accident attorney who is familiar with the Federal Motor Carrier Safety Act, which regulates motor carriers in the U.S. The FMCSA focuses on the inspection and maintenance of commercial trucks, the type and amount of cargo that can be hauled, drug and alcohol testing, the level of fatigue experienced by drivers, and many other safety issues. Our personal injury lawyers are well-versed in these rules and regulations and understand how to thoroughly investigate truck accident claims.
Our legal team also has the knowledge and resources to begin investigating your case immediately, which is crucial in truck accident claims. Some trucking companies and their insurers send investigators to the scene of the accident to gather information and start building a defense. Do not give a statement or sign anything from an insurance company before speaking with an experienced motor vehicle accident attorney.
Multiple Parties May Be Liable After a Trucking Accident
Depending on the circumstances, the truck driver, trucking company, parent company, and even the truck parts manufacturer may all be liable for your damages. You also may be able to recover compensation from your own insurance policy.
Our tenacious legal team handles negotiations with insurance companies and pursues all possible avenues to help you get maximum compensation for your injuries and losses. Having our truck accident lawyers in your corner can give you the upper hand and help you prepare for anything that may come your way.
Injuries Sustained in Truck Accidents Are Often Severe
The physical, emotional, and financial costs of being hurt in a truck accident can be staggering. Many victims sustain catastrophic injuries that require extensive long-term medical care. The ongoing costs of hospital stays, multiple surgeries, rehabilitation, and home health care are exorbitant. Common injuries sustained in crashes involving semi-trucks include:
Head, neck, and spine injuries
Traumatic brain injury
Paralysis
Amputation
Broken or crushed bones
Internal organ damage
Disfigurement
Psychological conditions such as anxiety, PTSD, and depression
How a Truck Accident Lawyer in Pennsylvania Can Help
If you've been injured or have lost a loved one in a truck accident, it's important to act quickly. The sooner you contact an attorney, the better. Insurance companies are not looking out for your best interests. They're in the business of making money and usually offer meager settlements that may not even come close to covering your medical bills, let alone short- and long-term losses you may suffer.
Our seasoned truck accident attorneys understand how to put an accurate value on your claim. We fight to help you recover damages such as:
Past and future medical expenses
Past and future lost income
Pain and suffering
Emotional distress
Loss of enjoyment
Loss of companionship or consortium
Property damage
Wrongful death damages
Our PA Truck Accident Attorneys Have a Proven Track Record of Success
Some of the best truck accident lawyers in Pennsylvania are part of our team at Thomas, Conrad & Conrad. We've recovered millions of dollars for clients injured by tractor-trailers.
Some of our recent recoveries for injured victims include:
Lehigh County: $1.3 million recovery
Philadelphia County: $4.5 million recovery
Monroe County: $1,050,000 recovery
After taking on a new client who was being represented by another eastern PA personal injury attorney, our accident injury lawyers obtained a settlement well above the amount the previous attorney had advised the client to accept. Specifically, the highest settlement offer before our involvement was $175,000. The client refused this settlement and instead retained Thomas, Conrad & Conrad to represent his interests.
In less than a year, we were able to recover the full $300,000 policy limit amount from the at-fault tractor-trailer driver's insurance company. In addition, our attorneys recovered $100,000 from the underinsured motorist coverage of the owner of the vehicle our client was driving at the time of the accident. Our attorneys also were able to collect an additional $50,000 from the client's own auto insurance policy, even though his vehicle was not involved in the crash.
In Lehigh County, our firm took a commercial truck accident case to trial and successfully recovered a $670,000 judgment for a client who had suffered significant injuries but was able to go back to work and exercise in less than a year.
Let our truck accident attorneys put their unmatched record of success to work for you today.
Contact Our Truck Accident Lawyers in Eastern PA
Being injured or losing a loved one in a truck accident can be a traumatic experience, but you don't have to face it alone. Our truck accident attorneys assist you every step of the way and fight to help you recover the maximum compensation you deserve. Call Thomas, Conrad & Conrad Law Offices at 610-867-2900 or contact us online to schedule a free consultation. With offices in Northampton, Lehigh, Berks, and Monroe counties, our personal injury lawyers serve clients throughout eastern Pennsylvania.