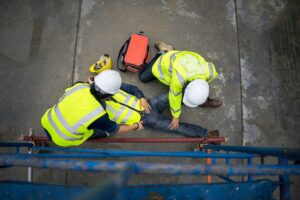 Construction work is one of the most hazardous jobs in the country. Unsafe conditions on construction sites can lead to workers and visitors being seriously injured. At Thomas, Conrad & Conrad Law Offices, our construction accident lawyers understand how devastating the aftermath of catastrophic injuries can be. Our personal injury lawyers help injured victims throughout Eastern Pennsylvania find the justice and compensation they deserve.
Types of Construction Site Accidents
Many different types of accidents occur on construction sites every day. Some of the most common involve:
Falling objects and tools
Falls from ladders, scaffolding, and heights
Scaffolding collapses
Slip, trip, and fall accidents
Falling into uncovered holes or ditches
Electrical accidents
Chemical exposure
Defective tools and equipment
Heavy equipment and motor vehicle accidents
Power tool injuries
Lifting injuries
Failure to warn of potential hazards
Improper or inadequate safety measures and training
Our personal injury lawyers are well-versed in handling all types of construction accident cases. If you've been hurt on the job and believe it was due to negligence, our workplace injury lawyers can evaluate your case and advise you of your options for recovering compensation.
Common Construction Site Injuries
Victims of construction site accidents may suffer catastrophic injuries and permanent disability. These types of injuries may require costly medical treatment, rehabilitation, and ongoing nursing care. Some common construction site injuries include:
Neck, shoulder, and back injuries
Spinal cord injuries
Head and brain injuries
Knee, leg, and ankle injuries
Damage to feet, hands, fingers, and toes
Amputation
Injury or illness due to chemical exposure
Our catastrophic injury lawyers understand how to accurately value your claim and fight to help you recover the full and fair amount of compensation to which you may be entitled. Sadly, in some cases, construction accidents are fatal. If you've suffered the loss of a loved one who was killed on a construction site, you may be able to file a wrongful death claim against any liable parties.
Filing a Construction Accident Claim in Pennsylvania
If you're a worker who was hurt on the job, you are entitled to workers' compensation benefits in Pennsylvania. Although workers' comp can help cover medical bills, wage loss, and short- and long-term disability, it does not cover damages such as pain and suffering. Generally, if you receive workers' compensation benefits, you are prohibited from suing your employer. However, there are exceptions to this rule, and other parties may be liable, so it's crucial to have a workplace injury lawyer evaluate your case.
Who is Liable for Construction Injuries?
Several different contractors often work on construction sites. If negligence by a contractor or property owner caused your injury, you may be able to file a personal injury claim against them in a premises liability case. If a defective or malfunctioning tool or equipment caused your injury, the manufacturer, designer, and distributor of the product could be liable. Our construction accident lawyers investigate your case and pursue all possible avenues of compensation. These types of cases are complex. Whether you've been hurt as a worker or visitor on a construction site, a personal injury lawyer will give you a straightforward assessment of your case and determine whether you have a viable claim for damages. If you do, we fight to help you hold responsible parties accountable and recover the maximum compensation you need to take care of your health and finances.
Types of Damages in Construction Accident Injury Cases
A catastrophic injury such as amputation or spinal damage is life-changing. Even if your injury isn't quite as serious, it can have a significant impact on your ability to work and do the things you enjoy. Although nothing can change what happened, our catastrophic injury lawyers may be able to help you recover damages such as:
Past and future medical bills
Past and future wage loss
Loss of earning capacity
Pain and suffering
Emotional distress
Loss of consortium
If you were hurt on the job and have filed a workers' compensation claim, it's vital to speak to a personal injury lawyer before you consider a lawsuit. Filing multiple claims can have an impact on the total compensation you obtain. A workplace injury lawyer can help you maximize the benefits and compensation you may be entitled to receive.
What to Do If You're Injured on a Construction Site
If you're hurt on a construction site, seek medical attention as soon as possible. If you can, take photos of the scene and your injuries. If you're seriously hurt and unable to move, ask a coworker or bystander to take photos for you. Going to the ER or seeing a doctor ensures your injuries are properly diagnosed and you get the care you need. Medical records also provide valuable evidence that can show proof of your injuries in both workers' compensation and personal injury claims.
It's also important to talk to a construction accident lawyer to discuss your case. Your initial consultation is always free, so you have nothing to lose. Our personal injury lawyers work on contingency, which means you won't pay attorneys' fees unless we help you recover compensation.
Why Choose Our Pennsylvania Construction Accident Attorneys?
At Thomas, Conrad & Conrad Law Offices, we care about our clients and their families. We handle all negotiations with insurers and won't hesitate to take your case to court if we can't come to a satisfactory settlement agreement. Our personal injury attorneys are experienced trial lawyers who have helped clients recover millions of dollars in awards. We handle all aspects of your case so you can focus on healing and moving on with your life.
Contact a Construction Accident Lawyer in Eastern PA
If you've been injured or have lost a loved one due to someone else's negligence, our construction injury lawyers at Thomas, Conrad & Conrad Law Offices can help. To schedule a free consultation, contact us online or call 610-867-2900. With offices in Northampton, Lehigh, Berks, and Monroe counties, we represent injured victims throughout Eastern Pennsylvania.