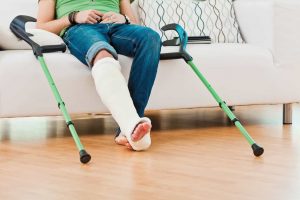 When the negligence or carelessness of another leads to injury, you may be entitled to compensation for your medical bills, lost income, pain and suffering, and other damages. Our personal injury lawyers at Thomas, Conrad & Conrad Law Offices are dedicated to helping injured victims get the maximum compensation they deserve.
Most personal injury cases involve proving the liability of the person or entity that caused you harm. Our seasoned legal team is well-versed in handling personal injury cases. We understand all aspects of building a solid case to support your claim. Our attorneys give you a straightforward assessment of your specific situation and advise you on the best course of action to move forward. Some common types of personal injury claims include:
Premises Liability
Property owners, businesses, and homeowners are responsible for keeping their premises safe for all who enter, which includes outdoor walkways, parking lots, bars and any other areas owned by the business or property owner. Slip and fall accidents are the most common type of premises liability claims. For example, if someone trips and falls because of a spill on the floor in a grocery store or if a child is injured due to a dog bite or drowns in a pool on a neighbor's property, the injured person or lost loved one's family may be entitled to compensation for their injuries or wrongful death.
Accidents
Car crashes most often come to mind when you think of an accident, but there are countless ways in which people can be injured or killed in accidents. Collisions involving pedestrians, motorcyclists, bicycle accidents, and tractor-trailers can cause catastrophic injuries that may require costly hospital stays, multiple surgeries, rehabilitation, and ongoing lifelong care. Neck, spine, and brain injuries can lead to paralysis, traumatic brain injury, and other issues that have a lasting impact on a victim's quality of life and ability to earn a living. Whether your injuries are minor or severe, our personal injury lawyers at Thomas, Conrad & Conrad Law Offices act as your advocate so you can focus on your recovery while we handle your settlement claim.
Intentional Liability
Our personal injury attorneys also represent clients who have been victims of intentional harm, which usually involves a criminal act such as assault. In addition to facing criminal charges, a person who causes someone else physical or emotional harm may also be civilly liable for their damages, which means that the injured victim may be able to recover compensation for damages such as:
Past and future medical bills
Loss of past and future earnings
Pain and suffering
Emotional distress
Loss of enjoyment of life
Loss of companionship or consortium
Although it is uncommon to award punitive damages in personal injury cases, if a defendant's actions were particularly reckless or intentionally wrongful, an injured victim may be entitled to punitive damages, which are intended to punish the defendant for their acts and deter others from doing the same.
What To Do After A Personal Injury
If you believe you've been injured or have lost a loved one due to someone else's negligence, it's vital to speak to a knowledgeable personal injury lawyer right away. Do not admit fault, give a statement, or sign anything from an insurance company before seeking the counsel of an attorney. Whether you've been involved in a slip and fall or a car accident, take pictures and video of the area where your injury occurred. Collect contact and insurance information from all involved parties, and gather contact information from witnesses.
Most important, seek medical attention as soon as possible, even if you believe your injuries are not serious. Symptoms of certain injuries may not appear right away but may require medical treatment and cause serious pain down the road. Documentation such as photographs, police reports, witness statements, and medical records are crucial evidence that can be used by your personal injury attorney to back up the facts of the circumstances surrounding your claim.
Our Personal Injury Lawyers Have A Proven Track Record Of Success
Some of our recent recoveries in non-vehicular personal injury cases include:
Our experienced litigators represented a Monroe County minor child who was awarded $188,000 after trial for injuries suffered after being struck by a rock thrown by a neighbor child.
We recovered $470,000 for a Northampton County client in a premises liability accident case.
Our personal injury lawyers recovered $190,000 in a dog bite case for a local woman whose hand was broken when her dog was attacked by a neighbor's pit bull.
Contact A Personal Injury Lawyer Today
If you've been hurt or have lost a loved one, you don't have to suffer alone. Our seasoned attorneys fight to get you the maximum compensation you deserve. Contact a personal injury lawyer at Thomas, Conrad & Conrad Law Offices online or call 610-867-2900 to schedule a free consultation.