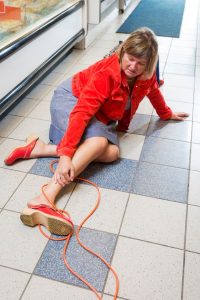 If you've been hurt or have lost a loved one as a result of slipping, tripping, or falling on someone else's property, you may be entitled to recover damages for your injuries and losses. Our slip-and-fall lawyers at Thomas, Conrad & Conrad Law Offices serve clients throughout eastern Pennsylvania. We're dedicated to helping injured victims obtain the compensation they need to protect their health and financial security after a slip-and-fall accident.
What Is Premises Liability?
Slip-and-fall claims fall under the legal umbrella of premises liability. Businesses and property owners have a responsibility to exercise reasonable care and maintenance to keep their premises safe for those who visit their property. If someone is injured or killed due to the business or property owner's failure to prevent or repair unsafe conditions, they may be liable for that person's injuries or death.
However, just because you're injured, it doesn't mean a property owner is automatically liable for damages. You must prove the owner or an employee was negligent in their duty to keep the premises in good condition. Proving fault in slip-and-fall cases can be challenging. Our premises liability lawyers have decades of experience in building solid cases to prove negligence and liability in all types of personal injury cases.
Common Causes of Slip-and-Fall Accidents
Common causes of slip-and-fall accidents include:
Wet floors and spills
Hidden defects on walking surfaces, such as damaged stairs and bumpy or cracked floors
Rugs and carpets that can cause tripping
Items placed on the floor that may pose a hazard
Damaged or uneven sidewalks, curbs, walkways, and parking lots
Poorly lit walking areas
Uncleared ice and snow
Our slip-and-fall accident lawyers have seen countless scenarios in which clients have fallen on someone else's property due to no fault of their own. We know how to collect valuable evidence and put it all together to prove fault and aggressively pursue the maximum amount of compensation to which you may be entitled.
Types of Injuries Sustained in Slip-and-Fall Accidents
Although slipping or tripping over something may not seem like a major accident, serious injuries can occur in these situations. Broken bones, head injuries, traumatic brain injuries, soft tissue injuries, cuts, bruises, and spinal cord injuries can have a significant impact on a victim's quality of life.
These types of injuries can be extremely painful and require costly medical treatment such as multiple surgeries, hospital stays, physical therapy, and ongoing nursing care. It's important to hire a slip-and-fall accident lawyer who understands how to accurately calculate the value of your claim to ensure your medical costs are covered and you are fully compensated for your damages.
If someone you love was killed in a slip-and-fall accident on someone else's property, you may be able to file a wrongful death claim against any liable parties. A personal injury lawyer can evaluate your claim and advise you of your options for recovering compensation. Your initial consultation is always free, even if you don't move forward with your case.
Recovering Compensation for Slip-and-Fall Injuries
Our law firm has successfully handled thousands of slip-and-fall liability cases. Our personal injury attorneys are well-versed in the underhanded tactics insurers use to minimize victims' injuries and pay as little as possible or deny valid claims. When you're hurt and trying to heal, dealing with insurance adjusters likely is the last thing on your mind. Our premises liability lawyers take the weight off your shoulders and advocate for your rights and interests. We investigate the facts of your case, gather relevant evidence, and vigorously negotiate with the insurance company on your behalf.
Depending on the circumstances of your claim, our slip-and-fall lawyers may be able to help you recover compensation for damages such as:
Past and future medical expenses
Past and future earnings
Pain and suffering
Loss of enjoyment of life
Loss of companionship and consortium
Punitive damages
Recent Slip-and-Fall Verdicts and Recoveries
Our slip-and-fall lawyers recovered $260,000 for a Lehigh County woman who was injured in a fall outside the cafeteria of an office building.
Our eastern Pennsylvania personal injury lawyers recovered a total of $220,000 from a restaurant and its snow removal company for a Lehigh Valley man after he slipped and fell on ice in the restaurant's parking lot.
A Berks County man making a service call at a Montgomery County home fell and injured his shoulder due to a hazardous condition in the basement. The homeowner's insurance company and defense attorneys refused to admit fault and would not offer any settlement. Slip-and-fall accident attorney Erik J. Conrad took the matter to trial, where he obtained a six-figure jury verdict for his client. He also recovered more than $30,000 in delay damage interest from the defendant due to their refusal to offer any settlement money before trial.
On the verge of trial, our skilled slip-and-fall lawyers were able to recover $190,000 for a Montgomery County woman who slipped and fell on ice in her workplace's parking lot. After successfully thwarting the defendant's objections to the case being heard in Philadelphia County, Thomas, Conrad & Conrad was able to keep the case in this victim-friendly venue, which led the defendant to offer more than three times the settlement amount they had previously offered.
Contact Our Slip-and-Fall Attorneys to Schedule a Free Consultation
Our slip-and-fall lawyers at Thomas, Conrad & Conrad Law Offices are dedicated to providing top-notch legal representation and fighting to help you recover maximum compensation for your injuries and losses. If you or a loved one has been injured in a slip and fall accident, call our Lehigh Valley personal injury attorneys at 610-867-2900 or contact us online to schedule a free consultation. With offices in Northampton, Lehigh, Berks, and Monroe counties, our slip-and-fall accident lawyers represent injured victims throughout eastern Pennsylvania.