Being hurt as a pedestrian can result in serious injuries that may affect you for the rest of your life. Our experienced personal injury lawyers at Thomas, Conrad & Conrad Law Offices have recovered maximum compensation for hundreds of clients who have been injured or have lost a loved one in pedestrian accidents. We put our experience and knowledge of the law to work for you to recover the full compensation you deserve for your medical bills, loss of wages, pain, and suffering, and other damages.
Types Of Injuries Sustained In Pedestrian Accidents
As a pedestrian, you are extremely vulnerable to catastrophic injury and death when you're struck by a motor vehicle because there is nothing surrounding you to shield you from the impact. Pedestrian accidents can result in very serious injuries, including: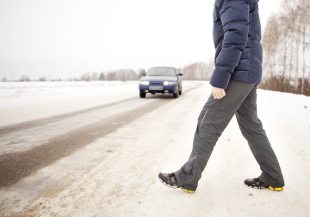 Head injuries
Traumatic brain injury
Back, neck, and spinal cord injuries
Paralysis
Broken or shattered bones
Internal bleeding and injuries
Broken facial bones, lacerations, or disfigurement
Broken or knocked-out teeth
Lost limbs
Death
Causes Of Pedestrian Accidents
All drivers are required to exercise reasonable care when they're on the road, but unfortunately, inattentive and aggressive drivers cause injury to other drivers and pedestrians every day. Drivers have an even higher duty of care when they are in an area where children may be at play, such as schools, residential areas, and parks. Some common causes of pedestrian accidents include:
Distracted driving
Driving under the influence of alcohol or drugs
Speeding
Failing to yield pedestrians the right of way at crosswalks
Ignoring traffic signs or signals
Failing to use turn signals
Disregarding weather or traffic conditions
It's important to keep in mind that pedestrians must also exercise reasonable care for their own safety. Always use marked crosswalks, follow walk signals at intersections, and never dart out into traffic or in front of a vehicle.
Compensation For Pedestrian Accidents
Being involved in a pedestrian accident can result in devastating lifelong injuries that require costly ongoing medical care, including multiple surgeries, rehabilitation, physical therapy, pain management, and psychological treatment for trauma. Our skilled litigators have a proven track record of success when it comes to recovering maximum compensation for our clients, both in and out of the courtroom.
When you've suffered a serious injury, it may not be possible to return to work and your normal daily activities for a long time, if ever. The expense of long-term medical treatment and the inability to earn a living can put you and your family in a precarious financial situation. Our compassionate personal injury attorneys understand how stressful these circumstances can be and are there to support you every step of the way.
Our experienced legal team works hard to help you recover maximum compensation for:
Past and future medical bills
Rehabilitation and physical therapy
Past and future earnings
Pain and suffering
Emotional distress
Loss of enjoyment of life
Loss of companionship and consortium
Wrongful death
Punitive damages
We gather evidence to back up the facts of your pedestrian accident claim, consult with your medical providers, and handle all negotiations with insurance companies. If a reasonable settlement cannot be reached, we will not hesitate to take your case to court.
Contact Our Pedestrian Accident Attorneys Today
If you've been injured or have lost a loved one in a pedestrian accident, our personal injury attorneys fight for your rights and help you recover the maximum compensation you deserve. With four convenient locations to choose from, we make it easy to find the top-notch legal representation you need. Our offices are located in Bath, Allentown, Stroudsburg, and Topton, Pennsylvania. Call us today at 610-867-2900 or contact us online to schedule a free consultation.