A motor vehicle accident can turn your life upside down. Piles of medical bills, lost income, property damage, and other accident-related expenses can put a strain on your finances and leave you feeling stressed. At Thomas, Conrad & Conrad Law Offices, our car accident lawyers are dedicated to providing exceptional legal representation throughout eastern Pennsylvania and fighting to help you recover the maximum compensation you need and deserve.
Types of Motor Vehicle Crashes
The personal injury attorneys at Thomas, Conrad & Conrad have an unmatched record of success in recovering maximum compensation for clients in all types of motor vehicle accident cases. Whether you've suffered serious injury or lost a loved one due to someone else's negligence, our motor vehicle accident lawyers are here for you. Our team is well-versed in Pennsylvania personal injury law and has extensive experience winning cases involving:
Our Car Accident Lawyers Understand That No Two Cases Are Alike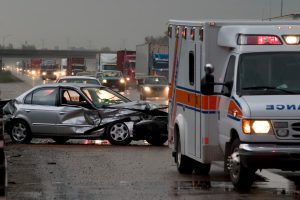 Spinal injuries, traumatic brain injury, amputation, and other catastrophic injuries often occur in motorcycle crashes and collisions involving semi-trucks and other commercial vehicles. Our team includes experienced motorcycle accident attorneys and truck accident lawyers who understand how these types of cases differ from those that involve only passenger vehicles. Victims of these types of crashes often require costly medical treatment and ongoing lifelong care.
Most people simply want to heal and get on with their lives, but when you've been seriously hurt, it may not be possible to return to work and your normal daily activities for a long time, if ever. Our personal injury attorneys know how to accurately value your claim and fight for the full amount of compensation you need and deserve to protect your health and your family's financial security.
Recovering Damages in Car Accident Claims
Although no amount of money can change what happened, injured victims and their families may be entitled to damages for the physical, emotional, and financial hardships they suffer. Depending on the circumstances, our motor vehicle accident attorneys may help you recover damages such as:
Past and future medical expenses
Lost wages
Loss of earning capacity
Pain and suffering
Mental anguish
Loss of enjoyment of life
Discomfort, inconvenience, and distress
Embarrassment and humiliation
Loss of companionship or consortium
Disfigurement
If a negligent party's actions were particularly egregious or they meant to deliberately cause harm, you may be entitled to punitive damages as well. These types of damages are not intended to compensate the victim but are awarded to penalize the defendant for their behavior and act as a deterrent for similar conduct in the future.
Our Auto Accident Lawyers Take the Weight off Your Shoulders
When you're hurt and trying to heal, dealing with insurance companies is the last thing on your mind. That's why it's vital to have a tenacious car accident lawyer to represent your interests.
Insurance companies are concerned with one thing — their bottom line. They typically offer minimal settlements to injured victims or deny liability altogether. This is especially true in cases involving trucking companies that have insurance policies with high limits. Our truck accident lawyers understand how to effectively negotiate with insurance companies to recover maximum compensation for your damages.
Our legal team examines the evidence surrounding the collision, collects evidence supporting your claim, collaborates with your health care providers, and handles negotiations with insurers so you can focus on healing. Although the vast majority of personal injury cases are settled out of court, our motor vehicle accident lawyers s are seasoned litigators who will not hesitate to bring your case before a judge or jury if a reasonable settlement cannot be reached.
Our Motor Vehicle Accident Attorneys Have a Proven Record of Success
Our car accident lawyers recovered $12,700,000 for the estates of a Northampton County woman and two of her friends who were tragically killed in a car accident caused by a drunk driver.
We obtained a six-figure maximum insurance settlement for a Lehigh County man who filed an injury claim against the driver of the car in which he was a passenger. The injured victim resided with his father, and our attorneys were able to recover an additional $100,000 from his father's underinsured motorist coverage.
Our legal team recovered more than $250,000 for a Northampton County man who suffered from a torn rotator cuff in a rear-end collision. Maximum settlement limits were obtained from the at-fault driver's insurance company, and we recovered an additional six figures from our client's underinsured motorist coverage.
At a final settlement conference, the trial judge recommended a settlement of $400,000 for an injured Berks County woman. Despite this recommendation, in advance of trial, the defendant's maximum offer was only $270,000. Attorney Erik Conrad took her personal injury case to trial, which resulted in an award of $630,000.
Steps to Take After a Car Accident
After any crash, call 911. It's important to follow certain steps to ensure you receive proper medical care and obtain documentation that can support a car accident claim down the road. Even if you believe your injuries are minor, it's important to seek medical attention as soon as possible. Car accident victims are often in shock following a collision. This can mask pain and other symptoms of your injuries, which may show up days or even weeks later.
Make sure to get names, contact information, license plate numbers, and insurance information from all involved drivers. It's also vital to get contact information from any witnesses. Take photos of the scene, vehicle damage, and your injuries. Refrain from using statements like "I'm sorry" or "It was my fault." If possible, get a copy of the police report at the scene. Do not give a statement to or sign anything from any insurance company without speaking to an auto accident attorney first.
Contact an Experienced Car Accident Attorney
Our team at Thomas, Conrad & Conrad Law Offices is dedicated to helping you get back on your feet after a tragic accident. Our car accident lawyers, motorcycle accident attorneys, and truck accident lawyers are dedicated to fighting for your rights to get you the maximum compensation you deserve. Call us at 610-867-2900 or contact us online to schedule a free consultation. Our personal injury lawyers serve clients throughout eastern Pennsylvania.