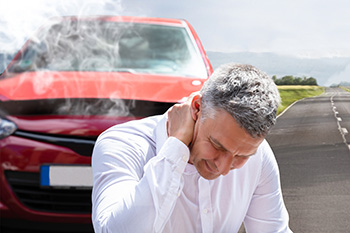 Whether you're involved in an accident with a car, motorcycle, tractor-trailer or stationary object, a motor vehicle collision can be life-changing. At Thomas, Conrad & Conrad Law Offices, we understand that motor vehicle accidents can occur anytime, anywhere, and depending on the way vehicles collide, damage can be catastrophic. Our motor vehicle collision lawyers are committed to helping injured victims and their families recover maximum compensation for their injuries and losses.
Types Of Vehicle Collisions
Some of the most common types of accidents that can cause serious injury or death include:
Side-Impact Collision
Also known as T-bone collisions, these types of accidents involve the side of a vehicle being hit by another motorist. These types of crashes typically occur at intersections, at traffic lights and in parking lots. Side-impact collisions are often caused by a driver running a red light or failing to stop at a stop sign. Depending on where the vehicle is struck, T-bone collisions can be deadly. Poor intersection design or failure to provide proper traffic control signals may mean that a municipality could be liable for damages caused by an accident. Serious side-impact crashes can also occur on train or subway tracks. If you've been hurt or have lost a loved one in a side-impact crash, our motor vehicle collision lawyers can assess your case and pursue all possible avenues of compensation.
Head-On Collision
When the front ends of two vehicles hit each other straight on, the results are often fatal. Sadly, our motor vehicle collision attorneys have represented quite a few families who have lost loved ones in these types of crashes. Staying alert and aware of other motorists and vehicles, traffic signs, and road conditions can help you avert the tragedy of a head-on collision.
Rear-End Collision
When a vehicle crashes into the back of a car or truck that's in front of it, it can cause injury to the occupants of both vehicles or even cause a chain reaction. Rear-end collisions often happen because of distracted driving like texting or talking on the phone. Driver inattention, tailgating, and wet or icy road conditions can also cause a motorist to crash into the vehicle in front of them. Many people assume that the rear-ending driver is always at fault, but that's not necessarily the case. If you've been hurt after rear-ending another vehicle, it's vital to contact an attorney to find out the best course of action to recover compensation for your injuries.
Vehicle Rollover
A vehicle rollover accident occurs when a vehicle flips over onto its side or roof. Any car can roll over, but vehicles with high centers of gravity are particularly prone to this type of accident. Rollover accidents are often caused by sharp turns at high speed and can lead to severe spinal cord injuries, brain injuries, and fatalities.
Multi-Vehicle Collisions
These types of accidents usually happen on highways and other busy roadways. When tractor-trailers and other large vehicles are involved, the results can be especially devastating and lead to a high number of catastrophic injuries and fatalities. If you've been involved in a multi-car accident, it's vital to contact an experienced motor vehicle collision attorney who understands how to properly investigate the circumstances of the crash and sort through the evidence to build a solid personal injury case.
Single-Car Accidents
Single-car crashes often involve inclement weather, swerving to avoid hitting an animal or debris in the road, speeding, falling asleep at the wheel, or mechanical failure. Colliding with a tree, telephone pole, or other stationary objects can result in serious injury or even death. If a faulty vehicle part or someone else's negligence caused your injuries, our motor vehicle collision lawyers can get to the bottom of what happened and help you recover compensation for your damages.
Contact Us If You've Been Hurt In A Collision In Pennsylvania
Our motor vehicle collision attorneys have recovered millions of dollars for clients who have been injured or have lost loved ones in accidents caused by the negligence of others. Call Thomas, Conrad & Conrad at 610-867-2900 or contact us online to schedule a free consultation.