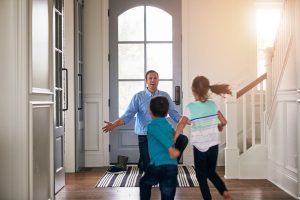 Child visitation and custody issues can be multifaceted and challenging to resolve. At Thomas, Conrad & Conrad, our team works to help you come to an agreement that meets your family's needs and is in the best interests of your children. Whether you're going through a divorce or need to alter an existing visitation agreement, our child custody lawyers can help you understand your rights and ensure your children's well-being is always a primary consideration.
Types Of Custody And Child Visitation
In Pennsylvania, courts recognize the value of parental involvement in their children's lives. Typically, both parents have the right to visitation with their children. There are several types of child custody, including primary custody, partial custody, and shared custody. In cases where domestic violence is involved or a parent can't provide a safe environment, a judge may order supervised visitation.
Custody Agreements And Child Visitation Schedules
Reaching a custody agreement and visitation schedule without court involvement makes the process easier for everyone involved. Our child custody attorneys have decades of experience in helping parents develop visitation schedules that work for the whole family.
Several elements must be included in a child custody agreement, including a schedule that outlines where your children will reside during the week and on weekends. It's important to be specific and hash out issues, such as what time visitation will begin and end, which holidays will be spent with each parent, and potential vacation dates, times, and arrangements. Details about how children are to be transported to and from school and to and from visits should also be included. Other issues, including involvement in school events and extracurricular activities, can also be addressed in a custody agreement. Once a custody and child visitation agreement is reached, it must be approved by the court.
Supervised Visitation
Supervised visitation may be granted when a noncustodial parent isn't capable of spending time alone with their children. Child abuse, sexual abuse, domestic violence, substance abuse, and mental illness are common reasons why supervised visitation may be required. Supervised visits must be overseen by an adult. Depending on the specific situation, supervised visitation may involve a neutral party or a responsible family member who monitors the visit and ensures that the child is safe.
Supervised visits may take place in a controlled setting, which is often the case if a parent has a history of child abuse or there's a risk that they'll abduct the child. In most cases, supervised visitation can take place at the home of a relative or a noncustodial parent's home as long as it's a safe environment for the children. Whether you're concerned about your children's well-being and believe supervised visitation is necessary or you're fighting for visitation rights, our child custody lawyers can help you navigate the choppy waters of the Pennsylvania family court system.
Can A Parent Deny Visitation To The Other Parent?
All parties are required to adhere to provisions as they're put forth in a child visitation and custody agreement. One parent may not alter custody and visitation arrangements without the other's consent. Unfortunately, some parents try to withhold visitation if the other parent is behind on child support. This isn't allowed — visitation and custody rights are separate from issues surrounding child support.
What Happens If You Violate A Custody Order?
Violating a custody order is illegal and can lead to a contempt of court charge. The court may impose fines, jail time, and penalties, such as denying child visitation by the parent who has violated the order. If you and your child's other parent are butting heads over custody and visitation, violating a court order isn't a viable solution. A child custody attorney can help you take action to legally hash out these types of issues.
How Our Attorneys Can Help With Child Visitation And Custody Issues
Our family law team is well-versed in conflict resolution and can help you find a course of action that benefits your children and protects your rights. Depending on the circumstances, we may draft a formal letter to the violating parent to inform them that legal action may be imminent, file contempt of court charges, or petition the court for supervised visitation. We understand that each situation is unique and matters involving child custody may be urgent. For issues that need immediate attention, our child custody lawyers are available via mobile phone 24 hours a day, seven days a week.
Contact A Child Visitation And Custody Lawyer
If you need assistance with child visitation or custody issues, our capable, compassionate family law team at Thomas, Conrad & Conrad can help. Contact us online or call 610-867-2900 to schedule a consultation at one of our offices in Allentown, Topton, Stroudsburg, or Bath, Pennsylvania.