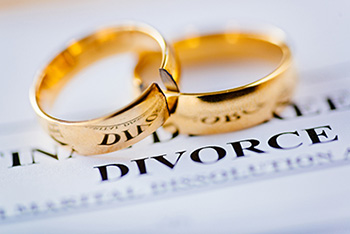 Going through a divorce can be a life-changing experience. There are different types of divorce in Pennsylvania, and the family court system can often be confusing. At Thomas, Conrad & Conrad Law offices, our divorce lawyers guide you through the process, help you understand your rights, and protect your interests.
No-Fault Divorce
Many divorces in Pennsylvania are no-fault divorces. An uncontested divorce occurs when both parties agree on all major issues. However, there are legal procedures that must be followed and countless forms must be filed with the court. To file for divorce, one party must have been a Pennsylvania resident for six months before the initiation of the divorce.
If you're seeking a divorce by mutual consent in Pennsylvania, both parties must agree that their marriage is irretrievably broken. Once the divorce action is served, they must wait 90 days for the divorce to be granted. If no children are involved and you don't jointly own property, such as a home, and have few assets, the dissolution of your marriage may be fairly straightforward. At Thomas, Conrad & Conrad, we offer legal assistance for uncontested no-fault divorces without property for a flat rate of $995.00 plus court costs. Our rates are affordable in comparison to high hourly retainers charged by other Family Law attorneys in the Lehigh Valley.
Other divorces are considered no-fault, even if one party doesn't consent to the divorce. In a contested no-fault divorce, a couple must have had a separation for at least a year, although they aren't required to live apart. Even in an amicable divorce, some issues may be contested. It's vital to have an experienced divorce lawyer by your side to protect your rights and ensure all actions are properly filed with the appropriate courts.
Divorce With Property In Pennsylvania
If your divorce involves the division of marital assets or issues surrounding alimony and child support or child custody, you can rest assured that our divorce attorneys will be your staunch advocates and negotiate on your behalf. Our experience in conflict resolution can help you reach a fair divorce settlement agreement that's beneficial for everyone involved. Resolving family law matters in this way can help reduce the stress and emotional upheaval that often comes with divorce, and it saves you the cost of going to court.
In a consensual no-fault divorce with property, once all issues are hashed out, your attorney creates a Property Settlement Agreement. This agreement typically lays out how assets are divided, any alimony that was agreed upon, and details about child custody and support, if applicable. Sometimes custody and child support are addressed in a separate agreement. If there are no assets, issues of alimony or child support and custody, an agreement is not required.
Divorce Litigation In Pennsylvania
If you cannot reach an agreement on all issues through negotiation or mediation, your divorce will have to be litigated in court. The court decides all issues according to Pennsylvania state law, including equitable division of property, child custody, spousal support or alimony, and child support. In Pennsylvania, these issues are all heard separately. Litigation is also often required when a divorce is based on fault grounds, including adultery, desertion, cruel and barbarous treatment, and endangerment.
Whether your divorce is contested or uncontested, each party must be represented by an experienced divorce lawyer. A divorce lawyer can protect your rights and interests in divorce and ensure that your transition to post-divorce life goes as smoothly as possible.
Conflict Resolution
Our divorce attorneys use their years of experience in family conflict resolution to help you achieve positive outcomes promptly. We're dedicated to helping you reach a fair resolution so that you can move on with your life after divorce. Our caring team understands that divorce and issues surrounding support and custody can be contentious and have a lasting impact on families. We're with you every step of the way and provide the professional, compassionate legal support you need. Our divorce lawyers at Thomas, Conrad & Conrad are available to answer any questions you may have and offer assistance when needed.
Affordable Legal Representation
At Thomas, Conrad & Conrad, we believe in providing top-notch legal representation at an affordable cost. Depending on the specific situation, many family law matters can be resolved for a flat fee. Other divorce attorneys often require a significant retainer and charge high hourly fees for similar family law services.
Contact Our Divorce Lawyers To Learn More
If you're seeking a divorce or dealing with matters surrounding child custody, support, domestic abuse, or other family law issues, our team at Thomas, Conrad & Conrad Law Offices can help. Contact us online or call us today at 610-867-2900 to schedule a consultation. Our offices are conveniently located in Bath, Allentown, Stroudsburg, and Topton, Pennsylvania.