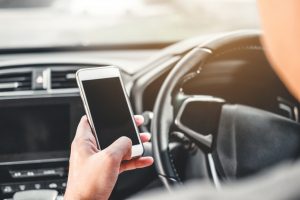 All drivers have a legal duty to practice reasonable care to keep themselves and others safe when they're on the road. According to the National Safety Council, one out of every four car accidents in the United States is caused by texting and driving. Texting and driving is negligent conduct, but in order to recover compensation, you must prove that the motorist who caused the accident was distracted by using their phone while driving. If you suspect that distracted driving was the cause of an accident in which you were injured, our personal injury attorneys at Thomas, Conrad and Conrad Law Offices can assess your case and take steps to show that the other driver was negligent in their actions.
What To Do After A Distracted Driving Accident
After any accident, it's important to call 911, even if you don't think you're seriously injured. Certain injuries may not appear for days or even weeks, so it's best to get checked out by a medical professional and contact an attorney right away. Whether you actually saw the other driver texting or believe that they may have been doing so, it's essential to inform any officers who respond to the scene.
Police will investigate the incident and try to find corroborating evidence from witnesses. If they issue a traffic citation, documentation of this will be included in the police report, which is a vital piece of evidence when bringing a personal injury claim. If you are able, jot down notes and take photographs of the scene, damage to vehicles and your injuries. If there were any witnesses, make sure to get their contact information.
Cell Phone Records
One of the most effective ways to show that someone was texting and driving is by obtaining their cell phone records. These records can show the time and location of use, and some companies differentiate between phone calls and texting or using other apps on a smartphone. Your lawyer will subpoena these documents for you. Having this key piece of evidence can mean the difference between recovering compensation or being stuck with costly medical bills and time spent off from work.
How An Attorney Can Help With A Distracted Driving Claim
Your attorney will investigate your claims and may use resources such as accident reconstructions to show how the crash happened. Cell phone records will be closely examined to determine whether any calls or text messages were sent or received in the minutes preceding the crash. Your lawyer may also collect statements from any witnesses who may have seen the other motorist texting and driving. Even if evidence is convincing, insurance companies often try to minimize settlement amounts and may deny your claim altogether. That's why it's vital to seek the counsel of an attorney who will fight for your rights and ensure you receive maximum compensation for your damages.
If you've been injured in a distracted driving accident, our personal injury attorneys at Thomas, Conrad & Conrad can help. Call 610-867-2900 or contact us online to schedule a free consultation.