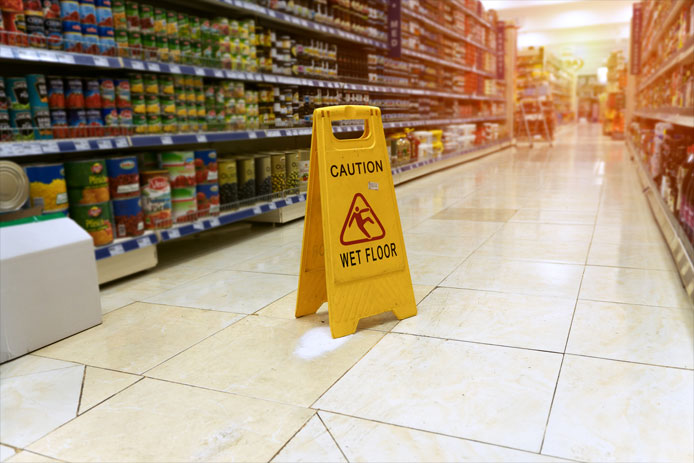 Slipping, tripping or falling on someone else's property can lead to serious injuries and even death. If you've been hurt or have lost a loved one due to someone else's negligence, our experienced slip and fall injury attorneys at Thomas, Conrad & Conrad can help you recover compensation for damages such as medical expenses, lost income, and pain and suffering.
Slip And Fall Injury And Premises Liability
Slip and fall accidents fall under the legal concept of premises liability, which means that property owners and businesses have a legal obligation to practice reasonable care and maintenance of their premises to ensure it is safe for all those who enter. If a business or property owner fails to be vigilant about preventing or repairing unsafe conditions and someone is injured or killed due to this type of negligence, the owner or entity may be liable for that person's injuries or death.
Common Causes Of Slip And Fall Injuries
Wet floors
Hidden defects on walking surfaces, such as damaged stairs or bumps and cracks in the floor
Rugs and carpets that pose a tripping hazard
Items placed on the floor that may pose a hazard
Uneven or cracked sidewalks, curbs, walkways and parking lots
Poorly lit areas
Ice and snow
Slip And Fall Injuries Can Have Devastating Consequences
Injuries sustained in slip and fall accidents can lead to serious physical emotional and financial repercussions for you and your family. You may be unable to return to work and require costly medical treatment, physical therapy and ongoing care. A slip and fall injury attorney can help you recover compensation for your medical bills, lost income, and pain and suffering and ensure that your financial future is secure.
Slip And Fall Injury Lawyers Hold Businesses And Property Owners Accountable
A slip and fall injury claim is multifaceted and requires the knowledge of an experienced legal team that knows how to thoroughly investigate all aspects of the incident, your injuries, medical treatment and other important factors that may influence the outcome of your case. A seasoned slip and fall injury lawyer will know how to properly collect evidence and ask the right questions when gathering witness statements. An attorney will also look out for your best interests and make sure your rights are protected so you can get the compensation you need to focus on healing and taking care of your family.
If you've suffered a slip and fall injury, call Thomas, Conrad & Conrad at 610-867-2900 or contact us online to schedule a free consultation.