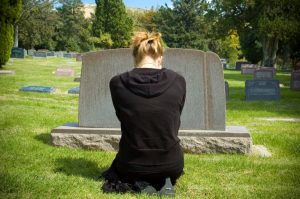 Losing a loved one is heartbreaking. Your grief may be even more profound when someone you love is gone because of negligence. If you're considering filing a wrongful death lawsuit, you don't have to go it alone. Our wrongful death lawyers at Thomas, Conrad & Conrad provide the compassionate support and legal representation you need to make things right for your loved one and your family. We represent people in wrongful death cases throughout eastern Pennsylvania.
What Is Wrongful Death?
When someone loses their life because of the negligence or carelessness of another party, it may be considered a wrongful death in Pennsylvania.
Who Can File a Wrongful Death Claim in PA?
It can be challenging to navigate the laws surrounding wrongful death. In Pennsylvania, a wrongful death lawsuit can be filed only by the personal representative of the deceased person's estate. This person may be named in a will or appointed by the probate court. Although the personal representative is the one bringing the claim, it is on behalf of all beneficiaries of the estate.
If a wrongful death claim is not filed within six months of the date of death, a beneficiary of the estate can file one on behalf of all beneficiaries. Our wrongful death attorneys help you understand how the process works and ensure your family's interests are properly represented.
Which Types of Cases Involve Wrongful Death?
Car accidents, tractor-trailer crashes, motorcycle accidents, collisions involving drunk drivers, pedestrian and bicycle accidents, and slip-and-fall incidents often result in a person's wrongful death. Acts of violence that lead to someone's death also may be the basis for a wrongful death claim. Our personal injury lawyers have experience handling all types of wrongful death cases. We're dedicated to finding justice for families and their loved ones.
How Do I Know If I Have a Wrongful Death Claim?
The best way to determine whether a wrongful death claim may be appropriate in your situation is to contact an experienced Pennsylvania wrongful death attorney. These types of cases are complex. Our personal injury lawyers evaluate your case at no cost to you and advise you of your options for recovering compensation.
Why Do I Need a Wrongful Death Lawyer?
We understand the stress and pain involved in these types of cases. Although no amount of money can change what happened, a wrongful death lawyer can help you hold negligent parties accountable for their harmful actions. Our team thoroughly investigates the circumstances surrounding your loved one's death and fights to help you recover maximum compensation for your family's losses.
Insurance companies usually attempt to deny wrongful death claims or offer very low settlement amounts. Our attorneys ensure your rights are protected and your claim is accurately valued. We take some of the weight off your shoulders so your family can grieve in peace and heal.
What Types of Damages Can Be Recovered in a Wrongful Death Case?
The Pennsylvania Wrongful Death Act allows a victim's spouse, children, or parents to recover damages such as medical and nursing expenses, funeral and administrative costs, and loss of companionship and financial support. If an at-fault party's behavior was particularly egregious or reckless, you may be entitled to punitive damages as well. The dollar amount of damages that may be recovered varies from case to case.
What Are the Chances of Winning a Wrongful Death Lawsuit?
Each case involves unique circumstances. Your chances of winning a wrongful death suit depend on the complexity of your case and whether it can be proven that your loved one's death was caused by negligence. This is challenging to do on your own – hiring an experienced wrongful death attorney increases your chances of successfully obtaining the maximum amount of compensation to which you may be entitled.
What is a Survival Action?
In a survival action, beneficiaries may recover damages that the deceased person could have received in a personal injury claim had they survived. Damages such as pain and suffering and loss of future earning capacity often are pursued in a survival action. Compensation awarded in a survival action is administered through probate according to the deceased person's will, or according to the Pennsylvania intestate succession laws if there is no will. Unlike wrongful death damages, any proceeds awarded in a survival action are taxable.
How Will I Pay for My Case?
At Thomas, Conrad & Conrad, our personal injury lawyers work on contingency, which means you won't owe attorneys' fees unless we recover compensation in your case. Your initial consultation is always free, even if you do not proceed with your case. If you have a viable claim and hire our wrongful death law firm to handle your case, there are no up-front costs to you.
To us, these claims aren't just about money. They're about holding negligent parties responsible for their actions and helping families find healing.
Contact an Eastern Pennsylvania Wrongful Death Attorney
If you've lost a loved one and believe a wrongful death claim or survival action may be appropriate, contact us online or call 610-867-2900 to schedule a free consultation. With offices in Northampton, Lehigh, Berks, and Monroe counties, our wrongful death lawyers represent injured victims throughout eastern Pennsylvania.