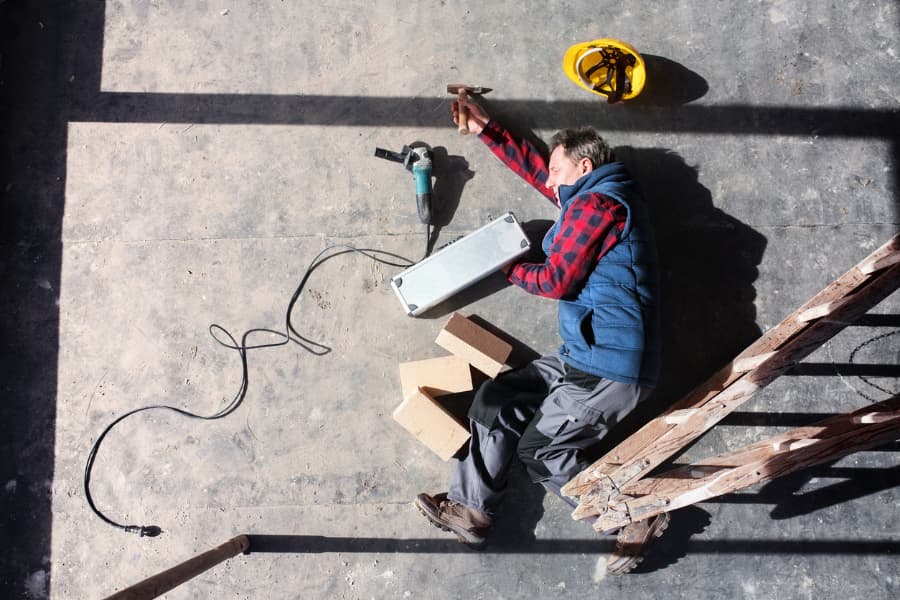 Construction work involves some of the most dangerous jobs in the United States. Working in construction can be so hazardous that the Occupational Safety and Health Administration (OSHA) has coined the phrase "Fatal Four" to describe the construction industry's most common types of fatal workplace accidents. At Thomas, Conrad & Conrad Law Offices, our construction accident lawyers understand the devastating impact the death of a loved one can have on a family. Our personal injury lawyers are dedicated to helping clients in eastern Pennsylvania pursue damages when a construction accident is caused by negligence.
The Fatal Four
According to the U.S. Bureau of Labor Statistics, 5,190 workers were killed on the job in 2021. Of all worker fatalities, 20% occurred in the construction industry.
OSHA defines the deaths listed below as the "fatal four," as nearly 64% of construction deaths can be categorized into these four common types of accidents.
Falls
Whether a worker falls from a ladder or a scaffolding collapses, a fall from a height can result in catastrophic injuries or death. Head injuries, traumatic brain injuries, spinal cord injuries, and internal bleeding are the most common causes of death due to falls. Even if a worker survives a serious fall, they may suffer lifelong effects due to their injuries. If you were hurt at work and believe it was caused by someone else's carelessness or negligence, a catastrophic injury lawyer will assess your case at no cost and advise you of your options.
Struck by an Object
Construction workers can be hit by falling tools, building materials, and other items. Workers also may be injured or killed when struck by a vehicle or improperly loaded materials falling off trucks and other equipment. This is just one reason it's vital to always wear a hard hat and other protective equipment when working on or visiting a construction site.
Wearing proper gear and following safety protocols saves lives and helps workers avoid serious injuries like traumatic brain injury. If an employer disregarded labor and safety laws, failed to provide proper protective equipment, or an accident was caused by a subcontractor, a workplace injury lawyer can help you pursue a claim for damages if you've been hurt or have suffered the loss of a loved one.
Electrocution
Unfortunately, many electrocution accidents occur due to labor law violations or negligence. Some of the most common include:
Contact with power lines
Fallen power lines
Overloaded circuits
Exposed wires
Damaged insulation
Wet conditions
Lack of ground-fault protection
Improper wiring
Inappropriate use of extension cords
Defective or damaged tools and equipment
Electrical accidents can cause fires, explosions, and serious injuries such as burns and disfigurement. If you've lost a loved one due to an electrical accident at work, a wrongful death lawyer can evaluate the circumstances surrounding the accident and determine whether you have a viable claim for damages.
Caught in or Between Objects or Vehicles
Caught in or caught between accidents happen when someone is squeezed, crushed, or compressed between two or more objects. Some common types of these accidents include building and trench collapses, being pinned between heavy equipment and a wall or another piece of equipment, and getting a hand or another part of the body caught in a piece of machinery. Not only do these accidents often lead to death, but they can also cause life-changing construction injuries such as amputation, spinal cord injuries, and traumatic brain injury as well.
How a Wrongful Death Lawyer Can Help
If someone you love was killed at work, a wrongful death lawyer can determine who was at fault and whether you may have cause to file a claim against any liable parties. Wrongful death damages in Pennsylvania include:
Loss of expected future earnings
Medical expenses incurred before death
Loss of inheritance
Loss of retirement benefits
Funeral and burial expenses
Loss of companionship and consortium
Reasonable value of guidance, assistance, and care the loved one would have provided had they lived
An eastern Pennsylvania construction accident lawyer also may be able to help you file a survival action, which allows the estate of the deceased person to bring a claim that the decedent could have brought if they were still alive.
Wrongful death claims involving accidents in the workplace are complex. Your personal injury attorney may need to consult with a workplace injury lawyer if workers' compensation death benefits are also a factor in your case. This helps maximize the amount of compensation you may be entitled to receive. Although no amount of money can bring a loved one back, holding responsible parties accountable can help families find some sense of justice.
Contact a Construction Accident Lawyer in Eastern Pennsylvania
Our workplace injury lawyers at Thomas, Conrad & Conrad Law Offices are dedicated to helping families whose lives have been turned upside down by construction accidents and fatalities. With offices in Northampton, Lehigh, Berks, and Monroe counties, we represent personal injury clients throughout eastern Pennsylvania. To schedule a free consultation with a construction accident lawyer, contact us or call 610-867-2900.