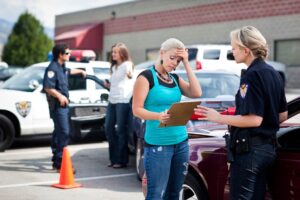 Although many parking lot car accidents are minor fender-benders, major vehicle damage and serious injuries can occur, especially when a pedestrian is involved. The auto accident lawyers at Thomas, Conrad & Conrad Law Offices handle all types of car accident cases in eastern Pennsylvania. We understand the unique challenges that can arise in claims involving parking lot crashes.
Types of Parking Lot Car Accidents
Whether a parking lot is jam-packed or almost empty, when drivers or pedestrians are distracted, accidents and injuries happen. The most common parking lot car accidents occur at low speeds when a driver is backing out of a space.
Motor Vehicle Collisions
Collisions between two motor vehicles in parking lots and garages happen every day. Often, it's because drivers take shortcuts across parking spots, or simply don't see another vehicle coming when backing up. Some other types of vehicle collisions include:
T-bone crashes
Head-on collisions
Rear-end collisions
Typically, the driver in a parking row lane has right of way over a driver pulling out of a parking spot. Drivers on the main thoroughfares of a mall, shopping center, or another type of parking lot have the right of way over those turning out of the smaller parking lanes.
This means that typically, a motorist backing out or turning onto a main lane in a parking lot is at fault if they get in a motor vehicle collision. However, there are exceptions, and who is at fault will depend on the specific circumstances. Because liability can be challenging to determine, if you or a loved one is hurt or your car is damaged, you should have an auto accident lawyer evaluate your case.
Pedestrian Parking Lot Accidents
Often, the most serious types of parking lot car accidents involve pedestrians or bicyclists. Because pedestrians and cyclists have no protection surrounding them, they can sustain serious injuries even when a car is traveling at a low speed.
These accidents sometimes happen because a driver fails to check behind their car when backing out of a spot. People also can get hit when crossing a street or parking lane in a lot. Staying alert when walking, biking, or driving in a parking lot can help you avoid bike and pedestrian accidents.
Proving Fault in Parking Lot Car Accident Cases
One of the reasons parking lot accident claims can be hard to win is lack of evidence in "he said, she said" claims. However, surveillance camera footage, police reports, and witness statements can make it easier to prove fault. A car accident attorney knows which type of evidence to collect and what questions to ask the injured person, alleged at-fault party, and any witnesses.
Who Is Liable for Parking Lot Injuries?
Depending on the situation, multiple parties could be responsible for a parking lot car accident, including:
Drivers
If someone is injured due to a driver's carelessness or distraction, the driver of that vehicle likely will be liable. If you're hurt, you may be able to file an accident claim for damages against their insurance company. However, since Pennsylvania is a no-fault insurance state, you need to file a claim with your own insurance company, regardless of who was at fault. Although personal injury protection (PIP) coverage will cover medical expenses and property damage, state minimum requirements are quite low and may only cover a portion of your accident-related expenses. If a driver who caused a crash is uninsured, underinsured, or it is a hit-and-run accident, your uninsured/underinsured motorist coverage also may provide some compensation.
The Property Owner
If the parking lot owner fails to place traffic signals such as stop signs, yield signs, crosswalks, and arrows indicating proper traffic flow in parking rows, they may be liable for a parking lot accident. Cases involving shared liability are complex and can be difficult to win. An auto accident lawyer can track down all possible sources of compensation and help you pursue damages if warranted.
What to Do if You're Involved in a Parking Lot Accident
Taking the following steps can help protect your rights. After any car crash, you should:
Call 911
Seek medical attention as soon as possible
Take photos or video of the scene and your injuries
Obtain contact and insurance information from any involved drivers, bikers, or pedestrians
Get witness statements and contact information
Contact a car accident lawyer
Even if you don't think you're seriously hurt, symptoms of your injuries may not appear until days or weeks later. Going to the ER or seeing a doctor can ensure any injuries are properly diagnosed and treated. Medical records also can be used to back up your claims in a car accident lawsuit. A personal injury lawyer will evaluate your case at no charge and advise you whether filing a car accident lawsuit is a feasible option.
Contact an Auto Accident Lawyer in Eastern PA
At Thomas, Conrad & Conrad Law Offices, our auto accident lawyers help personal injury clients throughout eastern Pennsylvania find the compensation they need to protect their health and financial security. To schedule a free consultation with a car accident attorney in Northampton, Lehigh, Berks, or Monroe county, contact us or call 610-867-2900.