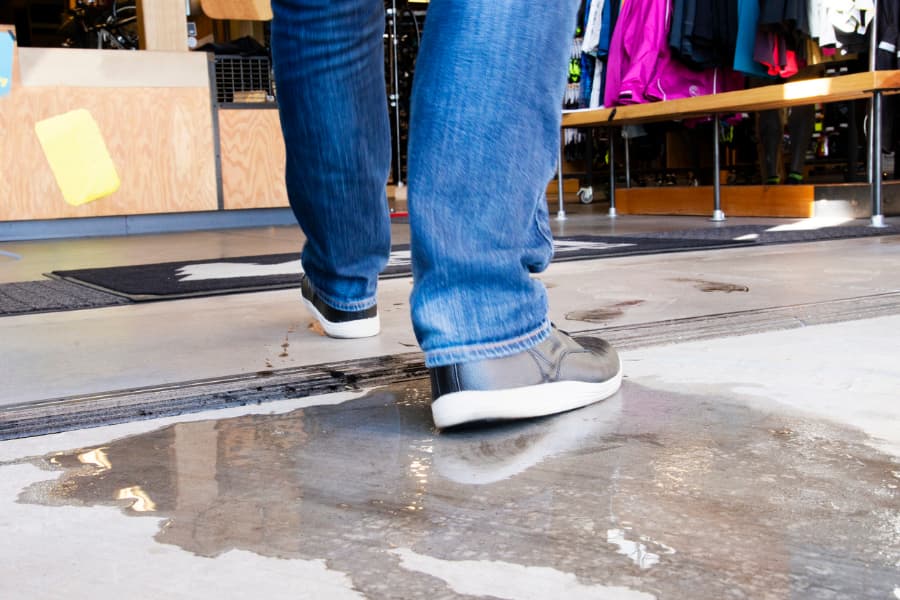 Whether you're picking up groceries at the supermarket or walking your dog through the neighborhood, slips, trips, and falls can happen almost anywhere. For more than 30 years, the slip-and-fall lawyers at Thomas, Conrad & Conrad Law Offices have helped clients throughout eastern Pennsylvania recover compensation for their injuries. Our personal injury lawyers believe that being aware of common hazards that cause accidents can help you avoid falling and hurting yourself.
Slick Surfaces
A recently-mopped floor, liquid or oil spill, and ice and snow are common culprits of slip-and-fall accidents. Property and business owners have a duty to keep their premises free of hazards. This includes promptly cleaning up spills and putting warning signs on slippery floors. Ice and snow on parking lots, sidewalks, stairs, and ramps also should be cleared and salted to prevent injury. If an owner fails to take care of these issues and someone falls and sustains an injury, they may be liable for damages.
Poorly Maintained Stairs and Walkways
Cracks, uneven surfaces, and other defects on stairs, walkways, and floors also can cause trip-and-fall accidents and injuries. Loose or broken handrails, steps in unexpected places, and objects left on the floor or stairs can be hazardous for people walking in the area. Failing to address and repair these potential dangers may be considered negligent.
Cords
Tripping over an improperly placed cord can lead to sprains and strains, broken bones, head injuries, lacerations, and other serious injuries. Property and business owners should always ensure that cords are never put where they could cause someone to trip and fall.
Loose Rugs and Carpets
When the edge of a rug or carpet isn't flush with the floor, it can cause someone to trip and become seriously injured. Loose carpet on stairs presents a major hazard as well. Keeping an eye out for this type of hazard in a store or someone's home can help you avoid injury.
Poor Lighting
Bathrooms, hallways, walkways, and parking lots are common areas where people may trip due to insufficient lighting. Property owners should always ensure their premises are well-lighted, both inside and out.
Experienced slip-and-fall lawyers have seen it all and are well-versed in all types of premises liability claims. If you've been injured on someone's property and believe negligence played a part, a slip-and-fall attorney can listen to your story and evaluate your case. Personal injury lawyers offer free consultations, so you really have nothing to lose by having an attorney evaluate your claim.
Injuries Caused By Slip-and-Fall Accidents
Regardless of how a slip, trip, or fall occurred, victims can sustain serious injuries. Some of the most common include:
Knee, ankle, wrist, and shoulder sprains and strains
Broken bones
Head injuries, such as concussions and more serious traumatic brain injuries
Neck, back, and spinal injuries
Cuts and scrapes
Facial and dental injuries
Many of these injuries can require extensive medical treatment and have an impact on your quality of life. The cost of surgery, hospital stays, physical therapy, and other injury-related expenses can pile up fast. Living with chronic pain due to an injury can be disheartening and affect the whole family.
If you fell due to a property owner's negligence, a premises liability lawyer may be able to help you recover compensation for your medical bills, lost wages, pain and suffering, emotional distress, and other damages.
What to Do if You Slip and Fall on Someone's Property
Falling and injuring yourself can be jarring and traumatic, but it's important to take certain steps to document the accident and your injuries. If possible, take photos of the scene and your injuries. If you're unable to get up or take photos, ask someone to assist you. If you fell in a store, office, or another place of business, make sure to fill out an incident report and get a copy before you leave.
Most importantly, seek medical attention as soon as possible. Even if you think you're not seriously hurt, symptoms of some injuries don't appear right away, so it's best to get checked out by a doctor. A simple X-ray can confirm whether you've broken a bone, and even if your injuries aren't all that serious, you'll receive the medical care you need. Medical records also provide valuable documentation of your injuries and the incident. It's also a good idea to contact an eastern Pennsylvania slip-and-fall lawyer. An attorney can evaluate your case, advise you of your options, and help you pursue compensation if you have a viable personal injury claim. Having a slip-and-fall lawyer as your advocate also can increase your chances of recovering a greater amount of compensation in a slip-and-fall settlement.
Contact a Slip-and-Attorney in Eastern PA
At Thomas, Conrad & Conrad Law Offices, our premises liability lawyers are dedicated to helping injured victims hold negligent parties accountable. With offices in Northampton, Lehigh, Berks, and Monroe counties, we represent personal injury clients throughout eastern Pennsylvania. To schedule a free consultation with a slip-and-fall lawyer, contact us or call 610-867-2900.