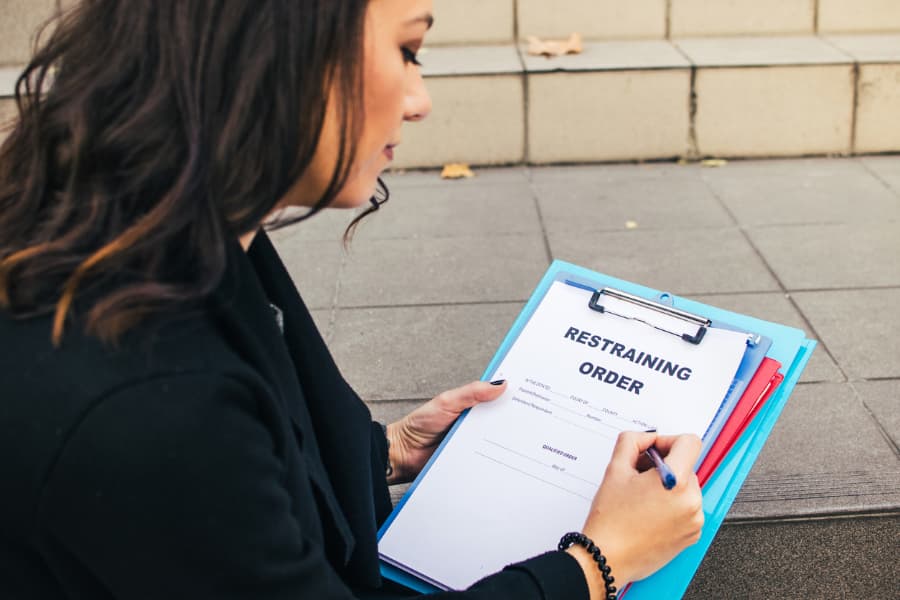 Filing a restraining order can be daunting for victims of domestic violence. An abuser may feel confident one will believe the accusations, which can fuel a continuing cycle of violence. However, there is often a significant amount of evidence that can back up a victim's claims in a protective order hearing. Our family law attorneys at Thomas, Conrad & Conrad Law Offices advise clients throughout the Pocono Mountains region and the Lehigh Valley about types of evidence that can be effective when obtaining a restraining order.
What is a Restraining Order?
Known as a protection from abuse order (PFA) in Pennsylvania, a restraining order provides certain protections for victims of domestic abuse. A PFA is a civil action that prohibits someone from contacting, harassing, abusing, stalking, or communicating with the person who is alleging the abuse.
Although a restraining order is a civil matter, if a defendant violates the order they may be charged with criminal contempt and be subject to jail time and fines. In Pennsylvania, a victim of abuse may file a restraining order only against an intimate partner or a family member. Parents or guardians may file for a PFA on behalf of minor children.
If you're dealing with abuse, threats, or harassment by a stranger, roommate, or another non-family member, you may be able to file for a Sexual Violence Protection Order (SVPO) or Protection from Intimidation Order (PFIO).
Emergency and Temporary Restraining Orders Require Minimal Proof
In Pennsylvania, the process for obtaining a protection from abuse order varies by county. Generally, the plaintiff or petitioner (victim) must go to the county courthouse or contact a local magisterial district judge to file an emergency PFA petition. On the petition form, the victim must explain why they are pursuing a PFA, describe the abuse they've suffered, and include protections they're seeking, such as ordering the abuser to leave the home or temporarily halting parenting time or visitation with minor children. A judge will review the petition and may ask the plaintiff additional questions. The court will then grant or deny a temporary PFA. A formal hearing will be scheduled within 10 business days.
Proof is Presented at the Final PFA Hearing
Both parties attend a final hearing in which each side may present evidence. At this hearing, the burden of proof rests on the plaintiff. This means they must prove the abuse allegations by a preponderance of the evidence (enough to show the abuse is more likely happening than not).
A domestic violence attorney can represent you at the hearing, which ensures all relevant evidence is presented to make your case for a PFA. Facing an abuser in court can be traumatic. Having an experienced lawyer by your side may help you feel more secure and confident about seeking an order of protection.
Types of Proof Offered in Restraining Order Cases
A Criminal Conviction for a Domestic Violence-Related Crime
If the defendant has been convicted of a crime such as assault, rape, false imprisonment, or putting another in fear of imminent serious bodily injury, that information may be presented at the final PFA hearing. Proof of these charges can be compelling evidence that shows the defendant's propensity for committing violence against intimate partners and other family members.
Medical Records and Photographs
The plaintiff also may show the court documentary proof that they were assaulted. Medical records, X-rays, and photographs of a victim's injuries can be powerful evidence.
Written and Oral Communications
Threatening texts, direct messages, emails, social media posts, and other written communications can be valuable when it comes to obtaining a final PFA. Make sure to save any voicemails from your abuser as well – they can be played in court.
Witness Testimony
Eyewitnesses to abusive behavior by the defendant may testify in a protection from abuse hearing. These witnesses may include neutral parties or friends and family members.
The defendant may also present evidence that contradicts the plaintiff's claims or shows that they are being untruthful. The judge will consider all evidence and testimony and make a decision. If the court opts to issue a final protection from abuse order, it may be in effect for up to three years.
How a Pennsylvania Domestic Violence Lawyer Can Help
Regardless of whether you are a plaintiff or defendant, having an experienced domestic violence lawyer represent you in a PFA case is vital. Your attorney is there to act as your advocate and put your rights and interests first. Having a family lawyer assist you can help take some of the weight off your shoulders and increase your chances of reaching your desired outcome in an order of protection case.
Contact a Family Law Attorney in PA
If you need assistance with filing a PFA or you've been falsely accused and wish to get an order of protection dismissed, our team at Thomas, Conrad & Conrad Law Offices is here for you. Contact us online or call us at 610-867-2900 to schedule a consultation. Our family lawyers in the Lehigh Valley serve clients in the Pocono Mountains region of eastern Pennsylvania.
If you or someone you know needs help, call the National Domestic Violence Hotline 24 hours a day at 1-800-799-7233 or 1-800-787-3224 (TTY).