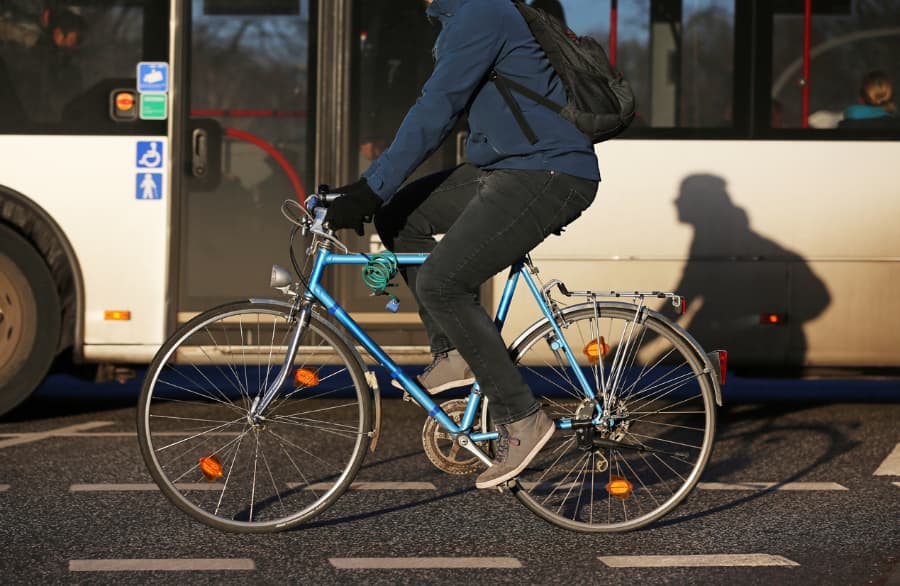 Taking the bus is an affordable, convenient way to get around town or go on a tour. However, when buses are involved in an accident, the results can be catastrophic. Whether you're injured as a bicyclist, pedestrian, or motorist, being hit by a bus is traumatic, and you may be unsure of what to do next. Our bus accident lawyers at Thomas, Conrad & Conrad Law Offices help injured victims throughout eastern Pennsylvania understand their rights and pursue compensation so they can heal and get their lives back on track. Taking these steps after a bus accident can protect your rights and help support any personal injury claims that may arise.
Gather Evidence
After a bus accident, one of the most crucial things you can do is gather evidence and information at the scene. If possible, take photos of vehicle damage, your injuries, the scene, and bicycle damage if you were hit while riding your bike. Obtain contact information for any witnesses and the bus driver. Get the bus company's or municipality's contact information as well. Ask law enforcement officers for a copy of the police report if you can. If you're injured and unable to gather this vital evidence, you may want to call on a bystander for help.
Seek Medical Attention
Auto accident attorneys understand the potential physical, emotional, and financial repercussions of serious motor vehicle collisions. That's why they recommend that injured parties seek medical attention as soon as possible after a bus accident.
Symptoms of conditions such as whiplash and other soft tissue injuries may not be apparent right away. Bicycle accident lawyers and pedestrian accident attorneys often represent clients who suffered internal bleeding and other life-threatening injuries they weren't aware of until they received treatment at the emergency room. Getting medical treatment ensures your health is protected, and medical records provide valuable evidence should you decide to file a personal injury claim. Make sure to follow any prescribed treatment plans and keep medical bills and receipts for accident or injury-related costs.
Contact a Personal Injury Lawyer
Bus accident cases are complex. Depending on the circumstances, you may need to file insurance claims with multiple parties, which may even include the parts manufacturer if a defective product caused a crash. Bus companies, municipalities, trucking companies, and other entities usually have insurance policies with high limits but aim to pay as little as possible on bus accident claims. Do not give a statement to insurance adjusters, sign anything, or accept a bus accident settlement without seeking the advice of a personal injury lawyer first.
If multiple parties are injured, the total amount of damages you may recover could be affected. It's easy to underestimate the cost of medical bills, hospital stays, lost time from work, and intangible losses such as pain and suffering after a crash. A bus accident lawyer will identify all possible sources of compensation and put an accurate value on your claim.
Why You Need an Accident Attorney in Your Corner
An auto accident lawyer acts as your staunch advocate and handles all communications with insurance companies, bus companies, government officials, law enforcement, and other parties. Their team will conduct a thorough investigation into the cause of the accident and who may be liable for damages.
It's also important for your lawyer to be familiar with Federal Motor Carrier Safety Administration (FMCSA) regulations and state laws that govern commercial passenger carriers. Bringing a claim against government entities in Pennsylvania is challenging, and different procedures and deadlines must be followed in cases involving municipality-operated buses.
An experienced bus accident lawyer will aggressively negotiate on your behalf to obtain the maximum compensation you need to protect your health and your family's financial future. If a reasonable settlement can't be reached, your bus crash lawyer will fight for fair compensation in court.
Contact An Experienced Bus Accident Lawyer In Eastern PA
At Thomas, Conrad & Conrad Law Offices, our personal injury lawyers are dedicated to protecting the rights and interests of victims hurt in bus accidents. If you or a loved one has been hit by a bus, contact us online or call us at 610-867-2900 to schedule a free consultation. With convenient locations in Northampton, Lehigh, Berks, and Monroe counties, our auto accident lawyers serve personal injury clients throughout eastern Pennsylvania.